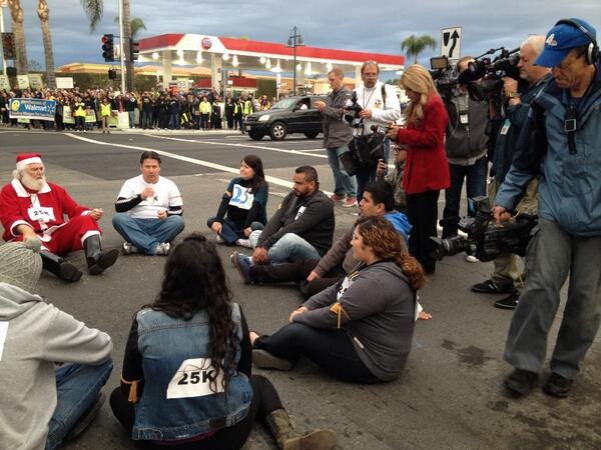 A number of shop workers and supporters belonging to the Our Walmart employees' group have been arrested during US-wide Black Friday protests against the world's biggest retailer.
The group, which had planned 1,500 protests nationwide for higher wages, more full-time jobs and an end to what it claimed was unlawful intimidation of workers, reported arrests in southern California, Washington DC, Dallas Fort Worth and Chicago.
Activists also hit out at Walmart's claims that those demonstrating were not company workers but merely supporters.
"It is very arrogant to say that," said Martha Sellers, an Our Walmart member from Los Angeles, in a conference call with IBTimes UK. "I am a Walmart employee and I was at the early protest here in Los Angeles at 6am. We are all Walmart employees."
On Black Friday 2012, hundreds of Walmart workers walked out of stores in 46 states, the group claimed.
Walmart makes more than $17bn in profits and employees have demanded a bigger slice of the cake with a minimum full-time wage of $25,000 a year. Only 475,000 of the company's US employees made more than $25,000 a year.
The group is also calling "for an end to illegal retaliation, and for Walmart to publicly commit to improving labour standards".
Dorothy Halvorson, Walmart employee in Placerville, California, was demoted to cashier from customer service manager, a job she had held for seven years, after she took a leave of absence to take care of her sick husband and to undergo surgery herself. Her wage was cut by 90 cents (55p) an hour.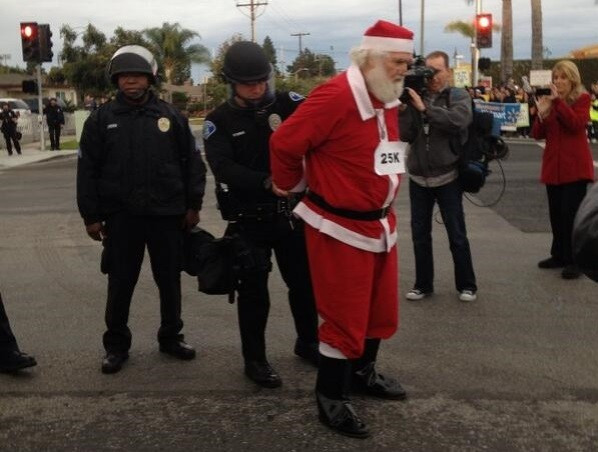 The National Labour Relations Board's (NLRB's) general counsel confirmed that Walmart had been using unlawful intimidation and coercion against employees who have spoke up against poverty wages and poor working conditions.
The NLRB said that Walmart "threatened, surveilled, disciplined and/or terminated employees in anticipation of or in response to employees' protected concerted activities" in 14 states.
Bob Herbert, distinguished fellow at Demos in New York, said: "Those Walmart employees are courageous because they are taking a great risk and they are stepping up and bringing the truth about the plight of millions of workers to the American people."
Our Walmart reported that nine supporters were arrested in a "peaceful civil disobedience" in Alexandria, Virginia. In Dallas Fort Worth, workers and community supporters sat down at an intersection in the city to block traffic, resulting in 13 arrests, the group said.
In Chicago, 10 people were held.
Walmart spokesperson Brooke Buchanan told the Huffington Post that the protests did not accurately depict what she described as a successful Black Friday for the retailer.
"We've got great feedback from customers and associates across the country," Buchanan said.
"A few tweets aren't representative of what's actually happening at 4,600 stores."
READ MORE: