A Russian Special Forces commando has died a "hero", after calling an air strike on himself when he was surrounded by Islamic State (Isis) militants near Palmyra. The Russian military have said that the covert officer was pinned down by the jihadis when he gave up crucial coordinates that ensured vital information was not seized by Daesh (Isis) while killing a few militants in the process.
The operative was part of a small Russian contingent assisting the Syrian Army as they fought IS troops in a successful operation to retake the ancient city. Over the past week the army, with the help of Russian airstrikes, have been encircling the city, which not only is significant because of the immense cultural importance of the Unesco World Heritage site, but also as it sits on a strategically critical route to the IS-stronghold of Deir ez-Zor.
The soldier was said to have been conducting vital reconnaissance work as Russian pilots fly dozens of sorties overhead. Russian President Vladimir Putin said himself that despite bringing the bulk of his military power back from Syria, he was compelled to ensure he left enough firepower to retake Palmyra.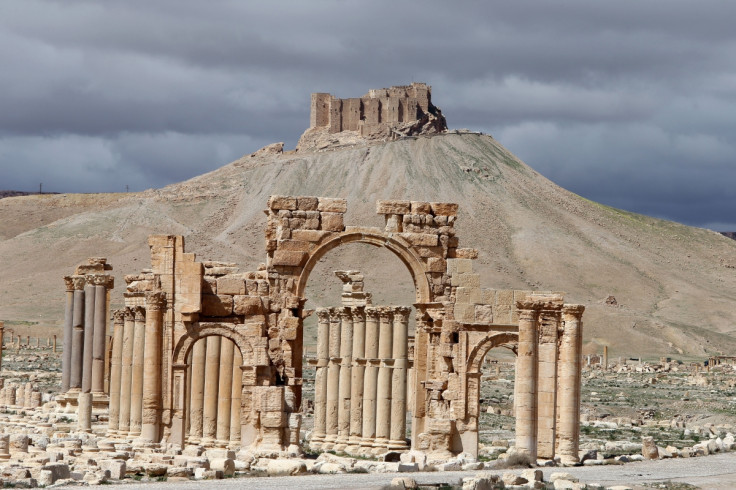 The soldier is thought to have belonged to the crack Spetsnaz elite combat unit which is in the region attempting to neutralise the IS threat. A Russian military spokesman said: "An officer of Russian special operations forces was killed near Palmyra while carrying out a special task to direct Russian airstrikes at Islamic State group targets.
"The officer was carrying out a combat task in Palmyra area for a week, identifying crucial IS targets and passing exact coordinates for strikes with Russian planes. The officer died as a hero, he drew fire onto himself after being located and surrounded by terrorists."
A date or time was not provided by the spokesman, but it was likely to have been in the last week as the conflict intensified around Palmyra. The historic site used to welcome over 150,000 visitors each year before the Syrian Civil War began in 2011.
The city boasts art and architecture from 100AD along with Greco-Roman ruins, over 1,000 columns, an ancient Roman aqueduct and 500 tombs on the vast site. But last year IS captured the 2,000-year-old ruins and deliberately destroyed a number of its ancient monuments, blowing up temples and shrines it deems as blasphemous symbols of ancient religions and executing people on the stage of the Roman amphitheatre.