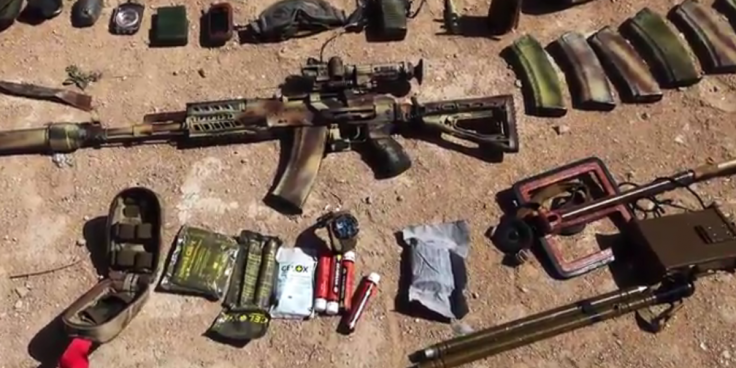 The Islamic State (Isis) has claimed to have killed a Russian military advisor during clashes near the ancient Syrian city of Palmyra. The jihadi group published images of dead man wearing military fatigue which it said was a Russian soldier killed in the countryside near the Unesco world heritage site that has seen intense fighting in recent days.
Video footage released by the IS (Daesh) linked Aamaq news agency showed the man's lifeless face covered in blood and equipment seized from him. Items tidily displayed before the camera on a barren terrain included an automatic rifle, several ammunition clips, a helmet, a radio and first-aid medical equipment packaged with instructions in Russian.
The Russian Foreign Ministry didn't immediately reply to a request for comment. Russian-backed regime forces have been on the offensive in Palmyra since last week, with hundreds of airstrikes targeting Islamist position in and around the city. On 16 March IS militants launched a counterattack on a strategic hill to its west that resulted in casualties on both sides, according to the Syrian Observatory for Human Rights (SOHR).
IS captured Palmyra in May 2015 and has since deliberately destroyed a number of it ancient treasures, blowing up temples and shrines it deems as blasphemous symbols of ancient religions. Liberating the city once known as the "Pearl of the Desert" would seal Russia's campaign in Syria with a major victory. After announcing most Russian troops were to return home, on 17 March President Putin made clear enough forces would remain the fight against the Islamic State group and particularly help regime forces retake Palmyra.