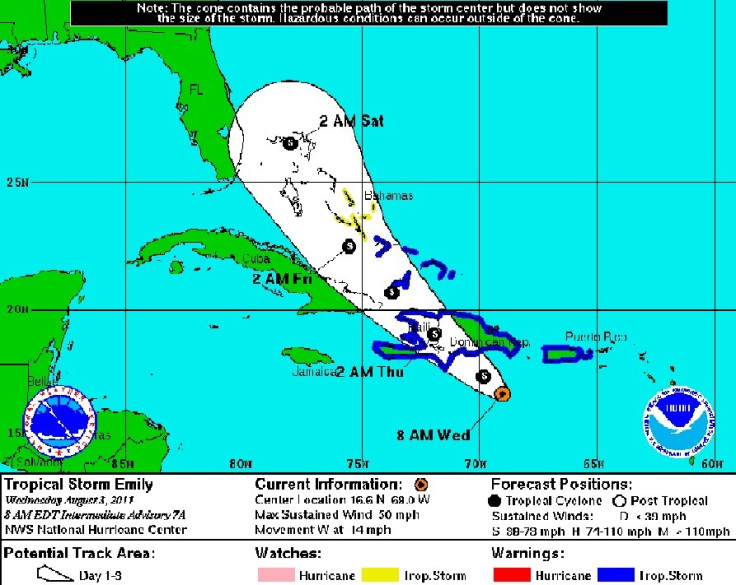 U.S. weather experts warned of "torrential rain" and "life-threatening flash floods and mud slides" as Tropical storm of Emily is set to reach Haiti, a country still struggling to recover from the devastating January 2010 earthquake which killed an estimated 225,000 people.
A tropical storm warning was in effect for Haiti; the southern coast of the Dominican Republic, the southeast and central Bahamas; and the Turks and Caicos Islands.
Following the warning, on Thursday nearly 12,000 United Nations peacekeepers waited on emergency standby.
"We have propositioned stocks, food, medical kits, cholera kits, tents, tarpaulins both here in Port-au-Prince and in departments to prepare for the storm," said Kevin Kennedy with the United Nations. "Some 360 evacuation sites have been identified just here in Port-au-Prince metropolitan area, and we can host up to 50 000 people for two days."
Additional supplies can be flown in from Panama if needed, Kennedy added.
The storm could have particularly devastating effect on the hundreds of thousands of Haitians who still live in temporary quarters following the 2010 natural disaster that struck the island.
Members of the U.N. Stabilization Mission in Haiti have already been deployed to areas at risk of flooding from the storm, the UN also said.
The government was quick to issue an alert and informed residents that the storm's heavy rains could produce dangerous flooding and mudslides.
"Emily is expected to produce total rainfall accumulations of 6 to 12 inches with isolated amounts of 20 inches are possible over the Dominican Republic and Haiti," the National Hurricane Centre said.
In 2010, the island was also struck by hurricane Thomas, which resulted in a cholera epidemic that killed hundreds and infected nearly 2,000 people, the U.N. said.
As tropical Storm Emily continued slowly advance toward Haiti, scientists said the centre of the storm was expected to pass over the south-western peninsula of Haiti on Thursday and reach eastern Cuba by Thursday night.
Early Thursday, the disorganized storm was about 35 miles south-southeast of Isla Beata, Dominican Republic, or about 120 miles southeast of Port-au-Prince, the centre said and maximum sustained winds of 50 mph, with gusts up to 65 mph, were recorded.
"Some weakening is possible as Emily interacts with the high terrain of Haiti and eastern Cuba," the Miami-based hurricane centre said. "Some re-strengthening is possible when the cyclone moves over the Bahamas."