If one man could be given the unlikely label "saviour of the Union", then it would certainly be Gordon Brown, whose "home rule" plans and electrifying final performances for the Better Together campaign have been credited with swinging thousands of votes.
But for the former Labour prime minister, his intervention and the impact it had across the political spectrum also amounts to a personal rehabilitation after his devastating 2010 election defeat.
If he now chooses to quietly retire from front line politics - and he has previously described himself as a former politician - he will go out on a high note with his reputation restored to something like the level it once stood.
When the campaign started it was decided, for very good reason, that it should be led by a Labour politician because it was Labour supporters who would likely decide the outcome.
In those early days the "no" campaign was confident, some say complacent, thanks to a poll lead of around 22%.
The plan was to keep the campaign steady and uncontroversial so as not to shake things up. Former Chancellor Alistair Darling was the obvious candidate for the job.
It was Darling, however, who sounded the warning bells early on in the campaign, insisting the result would be much tighter than predicted. And how right he was.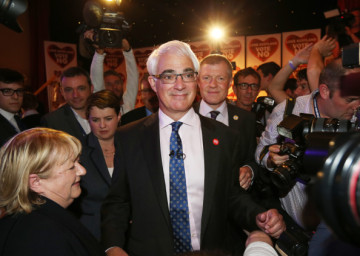 Gordon Brown was always going to be a significant player in the Better Together campaign thanks to his place as one of the country's biggest and most respected political beasts.
But a single opinion poll in the two weeks before the referendum put the nationalists in the lead and sparked flat-out panic. And they sent for Labour's "big clunking fist" – and he delivered, big time.
First, after pushing his "patriotic" vision for remaining in the UK in a number of speeches, Brown's proposals to devolve more power over tax and spending to Scotland were grasped by all three party leaders and hammered into a last-minute pledge.
When they were desperately searching around for a plan to get them off the hook, they belatedly recognised that Brown had had one all along.
And by adapting it to their own needs, it had an definite impact on the campaign, although critics pointed out it had given Alex Salmond the "devo max" consolation prize he had always wanted but had been denied by David Cameron.
But if that had an impact it was nothing compared to the effect of Brown's final, career-best speech setting out the case for a reformed Union.
It received almost universal praise from politicians and commentators across the board who fell over themselves in search of superlatives.
Suddenly, people who really knew it all along were reminded just what a powerful, passionate performer the former prime minister was. Within a couple of hours of being posted on YouTube it had been viewed 200,000 times.
And the general verdict was that it lived up to all the hype and boosted claims that perhaps Brown really had saved the Union.