The gunman who died after a two-hour rampage at an American naval facility was discharged from the navy in 2011 after a string of disciplinary problems, it has emerged.
Aaron Alexis, who was shot dead by police after killing 12 people during a two-hour massacre at the Washington navy yard, had even won an award for his contribution to the fight against terrorism.
Alexis, originally from New York, served as a navy reservist for four years, rising to the rank of petty officer 3rd class. He received the Global War on Terrorism Service medal as well as the National Defence Service medal.
However, he was eventually expelled from the service because of a "pattern of misconduct," according to an unnamed naval officer.
After his discharge Alexis began working as a civilian contractor, and was working at the Navy Yard for a company which handled computer equipment at the time of the attack. He used his contractor's pass to gain access to the facility before embarking on the massacre.
In addition to his disciplinary problems in the navy, Alexis had been arrested twice by police for gun-related incidents. The first arrest was made after Alexis shot out the tyres of a car in 2004, an act he attributed to post-traumatic stress disorder from 9/11.
Reports also suggest the gunman also had a keen interest in Buddhism and Thai culture, having been a regular visitor to the Wat Busayadhammavanara, a Buddhist temple in White Settlement, Texas.
A member of the temple has confirmed to the New York Times that Alexis regularly attended the Sunday services and used to meditate in Buddhist temples.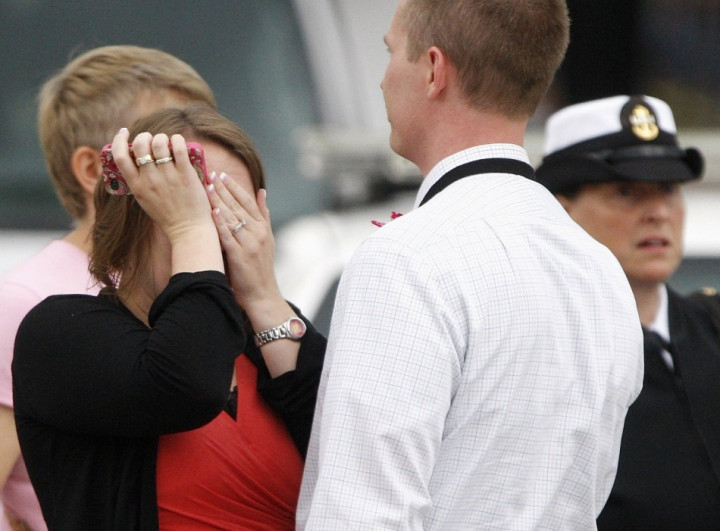 As peices of Alexis's background begin to emerge, investigators say they are still actively striving to find out as much as possible about him.
"No piece of information is too small. We are looking to learn everything we can about his recent movements, his contacts and associates," said FBI official Valerie Parlave.
Although the authorities originally believed another gunman may have been involved in the massacre, they now claim Alexis was acting alone. Washington DC Police Chief Cathy Lanier said: "We do feel comfortable we have the single and sole person responsible for the loss of life on the base today."
Officials also insist there is no evidence to suspect Alexis, who was armed with the same weapon used by Connecticut school shooter Adam Lanza, had any links with terrorism.
Meanwhile, the police have released the identities of at least eight dead victims during the shootout. They are Michael Arnold, 59; Sylvia Frasier, 53; Kathy Gaarde, 62; John Roger Johnson, 73; Frank Kohler, 50; Bernard Proctor, 46; Vishnu Pandit, 61; and Arthur Daniels, 51.
President Barack Obama condemned the act, describing it as a "cowardly act". He continued: "We still don't know all the facts. But we do know that several people have been shot and some have been killed. So we are confronting yet another mass shooting. And today it happened on a military installation in our nation's capital."