Not to be outdone by McLaren and its 280,000-brick supercar made entirely of Lego, arch rival Ferrari has upped the game, building a full-size Formula One car from almost 350,000 bricks.
The car, built to look like the SF70H, Ferrari's Formula One race car for the 2017 season, took an incredible 750 hours to build - and even before a single brick was laid, Lego experts spent 844 hours designing the model and working out how it would be constructed.
Weighing in at 566kg, the model, which does not have an engine, gearbox or any other heavy components, is not too far behind the 738kg of the actual car.
In all, Ferrari and Lego used 349,911 bricks - mostly red, naturally- and finished the car off with sponsors' stickers and the team's 2017 livery. There is even a replica steering wheel complete with prancing horse badge and the usual scattering of dials and switches.
The incredible model comes hot on the heels of a full-size 720S supercar built by McLaren to celebrate the Goodwood Festival of Speed in July. McLaren spent 2,000 man-hours on the model, using 280,000 bricks to create a car weighing 1,600kg, three times that of the Ferrari racer.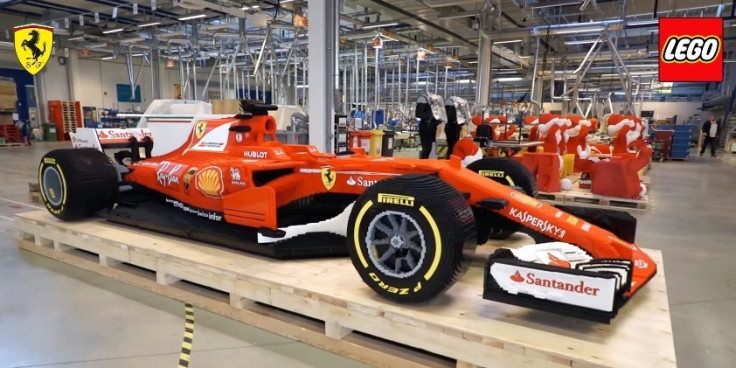 But why does the model with more bricks weigh less? The Ferrari's complex shape means it uses a greater proportion of Lego's smaller bricks. The difference is also likely down to how each company produced the car's metal chassis, and what strengthening was used to make sure the McLaren did not fall apart as it was pushed into place at Goodwood.