Despite targeting over 200,000 companies and organisations across 150 countries, theWannaCry ransomware attack had earned its creators less than £40,000 (€47,000, $52,000) by Monday morning (15 May), three days after the global assault began.
At the time of publication, the three bitcoin wallets used to collect ransom fees had received fewer than 200 payments, totalling 29 bitcoins (£39,400).
Despite bitcoin being almost entirely anonymous, transactions made using the digital currency are documented in the blockchain, a public ledger of all bitcoin transactions between so-called 'wallets' where the digital coins are stored by their owners.
The ransomware attack struck on 12 May, first hitting the Spanish telecommunications company Telefonica, before infecting the NHS, forcing many hospital computer systems to be shut down. It spread to thousands of computer networks in over 100 countries worldwide.
Called WannaCry, but also known as WannaCrypt and Wanna Decryptor, the ransomware encrypts the contents of the victim's computer, making them impossible to access. It can only be unlocked once a ransom of $300 is paid in bitcoins to one of three designated wallets.
If the ransom is not paid within three days the figure increases to $600, and if it goes unpaid for seven days, the WannaCry applications claims the contents of each infected computer will be permanently deleted.
The three bitcoin wallets used to pay the WannaCry ransom are here, here and here.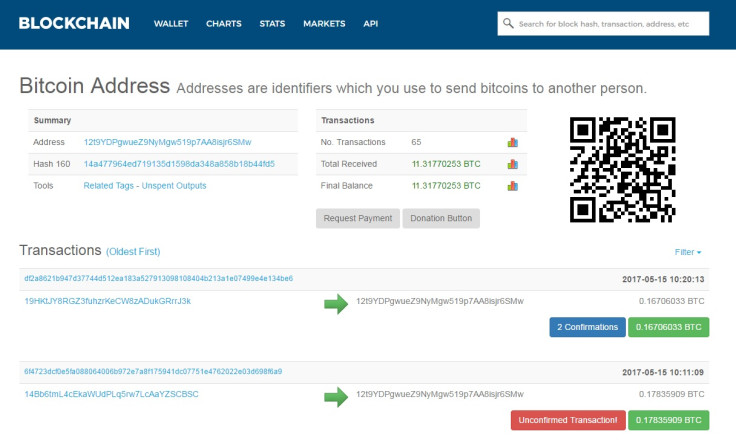 A Twitter account called @actual_ransom has been set up to automatically tweet when payment is made into one of the three wallets. Every two hours a tweet is published to announce the total ransom paid so far.
Such a disparity between the damage wreaked by the ransomware and the money its creators earned may come as a surprise to many, but this is often the case with large-scale cyberattacks. Cyber security expert Brian Krebs wrote: "I find it depressing to think of the massive financial damage likely wrought by this ransom campaign in exchange for such a comparatively small reward. It's particularly galling because this attack potentially endangered the lives of many."
WannaCry caused widespread damage to the NHS computer system used by hospitals across the UK. Over a dozen hospitals were forced to divert ambulances and reschedule operations because computers and medical equipment were rendered useless by the attack. Although there was widespread inconvenience, there have been no reports of any deaths caused by the ransomware outbreak.