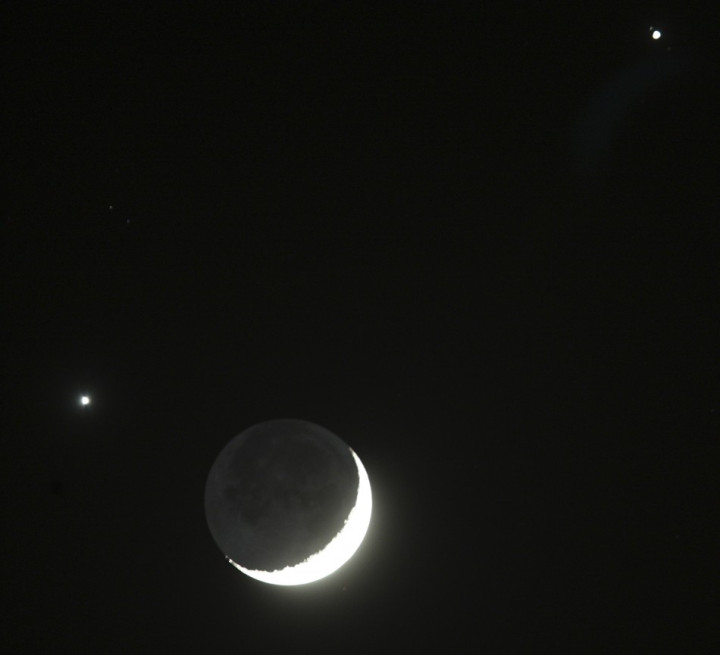 The moon, Venus and Jupiter will align next to each other in a magnificent celestial meeting on 17 July in the western sky.
The astronomical phenomenon will see the three brightest objects in our solar system after the Sun – which are millions of kilometres apart – line-up next to each other.
This will be the second such event of the month, as on 1 July, Venus and Jupiter seemed so close to each other that the two planets were separated by a distance less than the diameter of a full moon.
According to Nasa, during the 1 July conjunction, star-gazers were able to "block" Venus and Jupiter behind their little finger.
On 17 July, Venus -- which is brighter than Jupiter, but smaller in size -- will appear the brightest beside the Ramadan crescent moon and the largest planet in our solar system forming a triangle.
"The way that the planets are arranged in the most recent conjunction is believed to be the same as that event over 2,000 years ago," said assistant honorary secretary of The Astronomical Society of Singapore Albert Lim according to The Straits Times, referring to the biblical Star of Bethlehem.
"You have a thin crescent moon forming a triangle with two bright planets, Venus and Jupiter, in the western sky. So although conjunctions are not rare, the event is beautiful and scenic, and a great opportunity for photographers to explore creative angles," he added.
The moon will actually occult (pass in front of) Venus on Sunday 19 July 1am UT/9pm EDT (Saturday night) favouring the South Pacific, though the rest of the world will see a stunningly close pass, Universe Today reported.
The celestial extravaganza will be seen in the US East Coast on Saturday 18 July, starting at 9.15pm EDT.