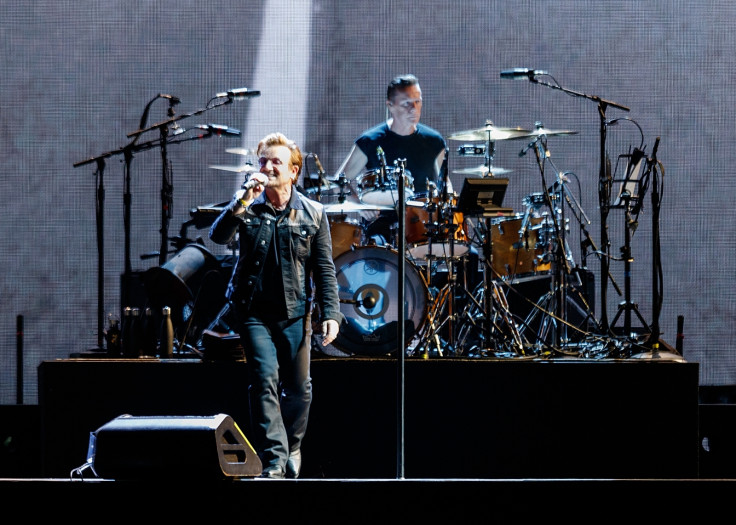 Rock band U2 delivered a couple of surprises for their audience in Seattle on 14 May. The Irish rockers invited Pearl Jam frontman Eddie Vedder and folk band Mumford & Sons to share the stage during the first US date of their Joshua Tree tour.
During a performance of their closing track, Mothers Of The Disappeared, at Seattle's CenturyLink Field, U2 stars Bono, The Edge, Adam Clayton and Larry Mullen Jr switched up the vocal arrangement and allowed Vedder, 52, and members of Mumford & Sons to join in making for one epic supergroup.
It is not the first time Vedder has performed U2 songs live – at a 2015 Pearl Jam concert in Colombia, Vedder sang a solo rendition of U2's A Sort Of Homecoming, which they also performed in 2006 during a show in Sydney, Australia. In May 2016, Vedder covered U2's All I Want Is You before the rest of Pearl Jam duetted on Wasted Reprise and Life Wasted.
Mumford & Sons are currently performing as the opening act for The Joshua Tree tour while other supporting acts include The Lumineers, Noel Gallagher & The High Flying Birds and OneRepublic. The 33-date trek is in support of the 30th anniversary of U2's iconic album The Joshua Tree, which was released on 9 March 1987.
Upcoming audiences are in for a treat as U2 are performing the critically-acclaimed album in its entirety, including tracks like Where The Streets Have No Name, I Still Haven't Found What I'm Looking For and their classic ballad With Or Without You.
Watch Eddie Vedder and Mumford & Sons on-stage with U2:
The Seattle concert was not without a political agenda as Bono, 57, addressed the audience after performing the song, MLK, in tribute to late civil rights activist Martin Luther King Jr. He said: "Nothing scares... politicians like people getting organised. That's how it should be, the government scared of the people, not the other way around." According to the Mail Online, Bono also praised Bill Gates and his wife Melinda for their philanthropy, describing the couple as "luminary figures".
Available seats for the tour's upcoming shows may be sparse as ticket-selling website StubHub revealed The Joshua Tree jaunt is the top-selling live music event for summer 2017, giving current front-runners Guns N' Roses a run for their money.
The Joshua Tree tour resumes at the Levi's Stadium in Santa Clara, California on 17 May.