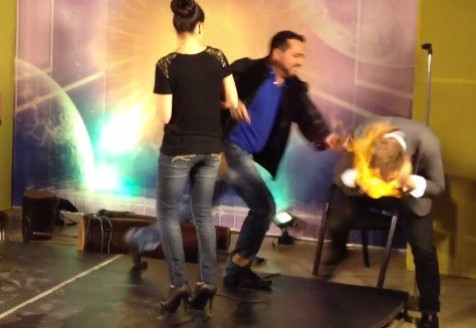 The magician who almost lost his life after his head was set on fire in front of millions of television viewers is still in hospital.
Wayne Houchin was doused in burning liquid live on a TV show in the Dominican Republic and fought frantically to douse the flames engulfing his face.
The attack was reportedly carried out by the host of the TV show Approach the Stars. He was named locally as Franklin Barazarte, who doubles up as director.
Medical experts in a nearby treatment room gave Houchin immediate emergency care before he was he was rushed to hospital for further treatment.
It was not known if Houchin will be permanently disgifured. But after discussions with doctors he said he was optimistic.
He told followers on Twitter: "The Dominican Republic is a beautiful country full of beautiful people. The outrage here and outpouring of support has been incredible.
"The support and love sent my way through social media, blogs, forums, friends and fans has been both humbling and overwhelming. Thank you."
Among the well-wishers was world famouse magic man David Copperfield.
His supporters hit back at some sections of the local press who praised the assault. Super Magazine said that the attack was "divine justice" for his TV "witchcraft."