Peruvian President Pedro Pablo Kuczynski has been critical of Donald Trump's plans to build a Mexico border wall and during his first formal meeting with the US president, he once again told Trump about it. The first Latin American leader to visit Trump at the White House, Kuczynski said that he preferred "bridges to walls".
During what he called a "cordial and constructive" meeting, the former Wall Street investment banker preferred to keep some distance between Peru and the Mexico wall debate. "I don't want to get into the wall," Kuczynski said in a video distributed by his office. "We're interested in the free movement of people... I emphasized that to President Trump and we prefer bridges to walls."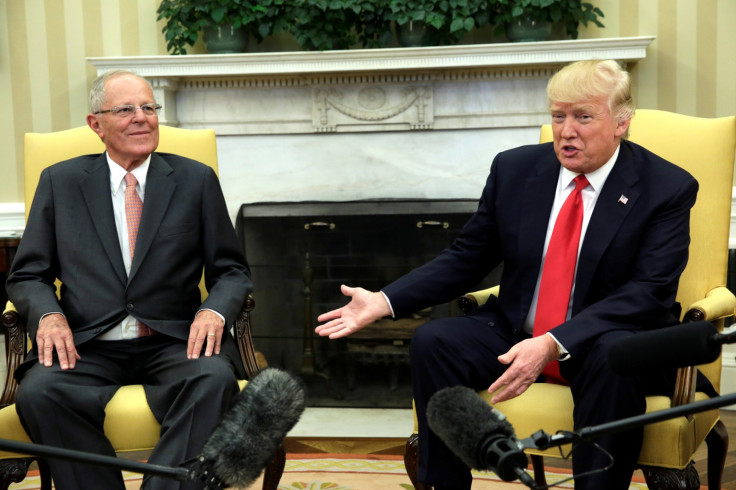 He instead stressed that "Latin emigration to the US has contributed to rejuvenate the population" and only 70 Peruvians out of one million living in the United States are in jail.
"Peru has not exported criminals to the United States," Kuczynski said. "They're nurses, they're doctors, they're all sorts of people."
Trade talks
Moving away from immigration issues, the two leaders also discussed trade agreements and the scope of economic development of their countries. "I understand they're going to be buying quite a bit of our military -- some of our military vehicles. And they are great vehicles. I just looked at it and we're approving it," Trump told the Peruvian president according to a statement released by the White House.
Prior to the meeting, Trump gave a speech at the Conservative Political Action Conference where he criticised the various trade deals made by the US, saying that they harmed national interests. However, in a run-up interview with Agencia EFE, Kuczynski pointed out that the deals were not one-sided
Problem with Venezuela
Early into the meeting Trump mentioned that he planned to discuss the "problem with Venezuela" but the Peruvian leader said the subject was only tangentially mentioned. Both presidents have previously expressed concerns over the neighbouring country, which is currently in the midst of political turmoil.
Trump issued sanctions on Venezuela's vice president for his alleged role in facilitating large cocaine shipments to the US and Kuczynski has already criticised Venezuela's socialist government and called for humanitarian aid to the country.
However, the 78-year-old preferred not to delve into his position with Caracas. "Peru's position is that of a friend from Latin America. We support democracy and we will do our utmost to ensure that democracy and well-being prevail in all countries of Latin America. Latin America," he said.