The White House blocked several major news outlets including the BBC, CNN, New York Times, LA Times from covering a press briefing.
The New York Daily News, BuzzFeed, The Hill, and the Daily Mail were also barred from the off-camera meeting, dubbed a "gaggle".
White House Press Secretary Sean Spicer hand-selected news outlets to participate in the meeting inside his West Wing office.
Earlier on Friday the White House told the press that a traditional on-camera press conference would be replaced by a press pool, which usually includes one television, one radio and one print outlet.
The media were notified that it would take place inside Spicer's office instead of the James S Brady Press Briefing Room. The pool of reporters had been "expanded", they were told.
Many of the news outlets blocked had been explicitly criticised by President Donald Trump. The banning follows an escalating series of stinging attacks on the mass media.
The "expanded" gaggle included news outlets such as Trump chief strategist Steve Bannon's far-right Breitbart News, plus One America News Network, the Washington Times, and all news organisations that could be seen as leaning to the right.
Other major news outlets approved included ABC, CBS, NBC, Fox News, Reuters and Bloomberg.
It has been reported that the Associated Press (AP) and Time magazine boycotted the meeting.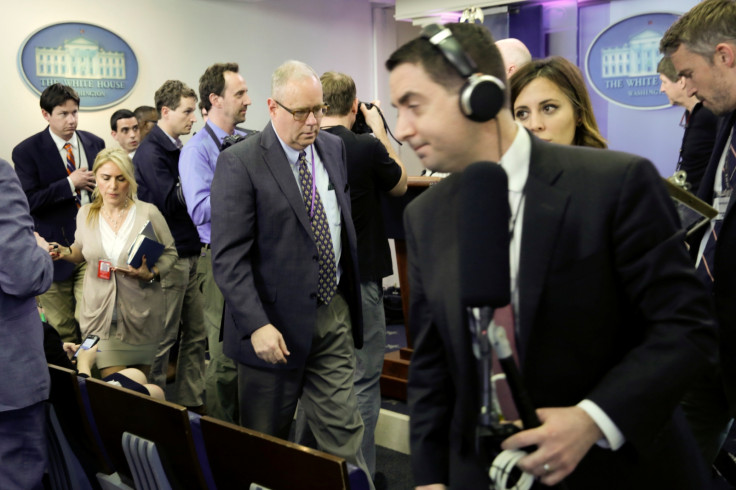 Dean Baquet, executive editor of the New York Times, said: "Nothing like this has ever happened at the White House in our long history of covering multiple administrations of different parties.
"We strongly protest [against] the exclusion of the New York Times and the other news organisations. Free media access to a transparent government is obviously of crucial national interest."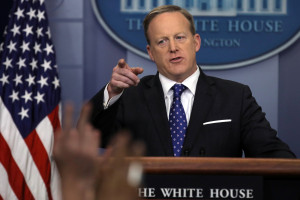 On the same day Trump renewed his attacks on the media by again calling news outlets "the enemy of the people" at the Conservative Political Action Conference (CPAC) in Washington DC.
Earlier in the day, it emerged that the FBI reportedly refused a request by the White House to strike down media reports about communications between associates of Trump and Russia.
President of the White House Correspondents' Association (WHCA), Jeff Mason, said his organisation planned to protest against the ban.
"The WHCA board is protesting strongly against how today's gaggle is being handled by the White House," he said.
"We encourage the organisations that were allowed in to share the material with others in the press corps who were not. The board will be discussing this further with White House staff."