Stephen Colbert didn't shy away from baring his butt while hosting the 69th annual Emmy Awards held at the Microsoft Theater in Los Angeles on Sunday, 17 September.
Colbert enlisted actor Jeffrey Wright ( who plays Bernard Lowe on Westworld) to spoof Westworld's naked robot interrogation scenes and pretended to be a Westworld host. In the scene, Bernard attempted to fix Colbert's glitch, who is completely naked.
Bernard asked Colbert if he knew where he was, to which Colbert responded: "I'm gonna guess an abandoned Apple store."
Bernard then asked him one of Westworld's famous lines, "Have you ever questioned the nature of your reality?" To which the host took a dig at 2016 Presidential Election and replied, "Every day since November 8."
Fans have reacted to the talk show host going butt naked on Emmy's with hilarious tweets. One user tweeted, "Heeeeell no!!! Steven Colbert is butt naked #Emmys," another said, "OH WESTWORLD SKETCH did I just see Colbert's butt."
"lmao Colbert in this Westworld skit, bare butt and all," said a user, while a second user seemed horrified with the butt display. "'We really don't need naked Stephen Colbert" reads the tweet.
A fan of Westworld cheekily wrote, "Stephen Colbert is a naked android from Westworld. I thought this show couldn't get better and it did."
Previously, while promoting the Emmys on The Talk this week, the Comedian admitted he actually bronzed his backside for a skit. He said on the talk show, "I wish it was a 22-year-old guy who's nude, but it's me."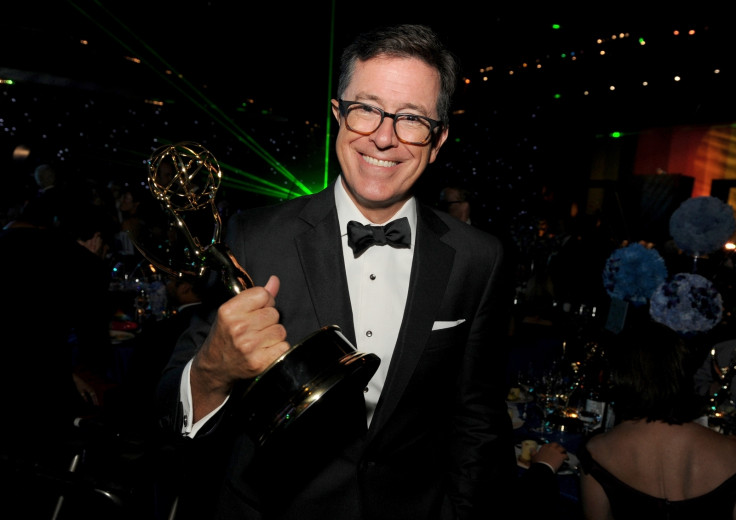 Shedding more light on CBS' policy on showing nudity on TV, the 53-year-old comedian explained, "We are in negotiations with CBS right now — because CBS has got the Emmys this year— about how much of my butt we can show. Because evidently, and I did not know this, you cannot show butt crack on broadcast television."
"I said, 'Wait a second, I don't even get to show my butt crack after getting totally naked? Do you know how much bronzer was rubbed on my body? Do you have any idea how intimate I have known my makeup lady? We've worked together for 20 years, we've never been more intimate than this week.'" he concluded.