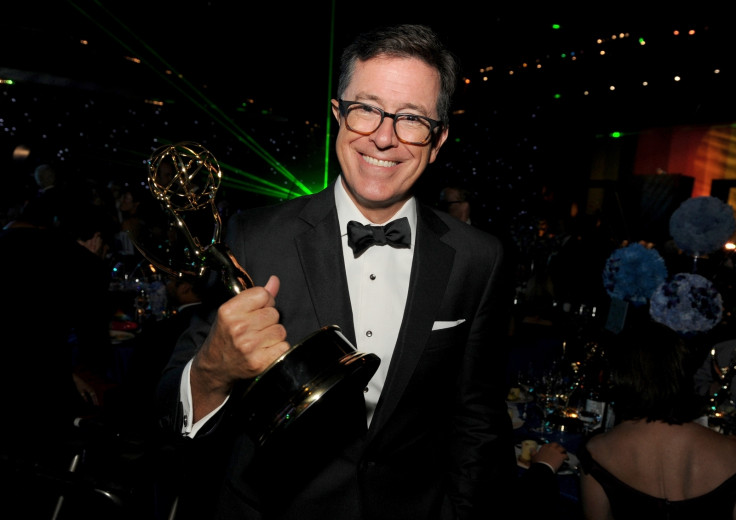 Get ready for the biggest television event of the year. The 69th Primetime Emmy Awards will be held at the Microsoft Theater in Los Angeles on Sunday, 17 September. After last year's memorable hosting by Zimmy Kimmel, this year the event will be hosted by none other than Stephen Colbert, the ace talk show host from the television world.
During the show The Talk, Colbert opened up about the entertainment quotient of the highly anticipated event and said: "We have an opening musical number I hope everybody likes, we have some surprise guests — couple more just came through today — and we also have nudity."
When and where to watch the event:
The award show will be telecast live on CBS Television Network from 8pm ET and 5pm PT onwards. Click here to watch it live stream online on CBS All Access on its official website. Paid subscribers can watch it from Hulu with Live TV, and DIRECTV Now.
The network, however will not live telecast the Rad Carpet arrival. Tune into E! YouTube channel at 6pm ET/3pm PTto watch your favourite celebrities in their best outfit.
This year the Emmys chose new shows over insanely popular old shows. New shows like Westworld, and Stranger Things have earned more nominations (22 and 18 respectively) while Game of Thrones and Downton Abbey were royally snubbed.
Considering their unique and intriguing plots crafted intelligently to keep viewers eager for its next season, both Westworld and Stranger Things are expected to win most of the trophies. Click here to see the nomination list.
Meanwhile, Colbert has said that he is looking forward to hosting the event. "It's an honour to host the Emmys," he told CBS News. "I have to do a good job hosting the Emmys. I have no control over the rest of it so I'm not going to think about it. Unless I do have control over it. As host, I do have any control? Oh, then I would like to win," he added.