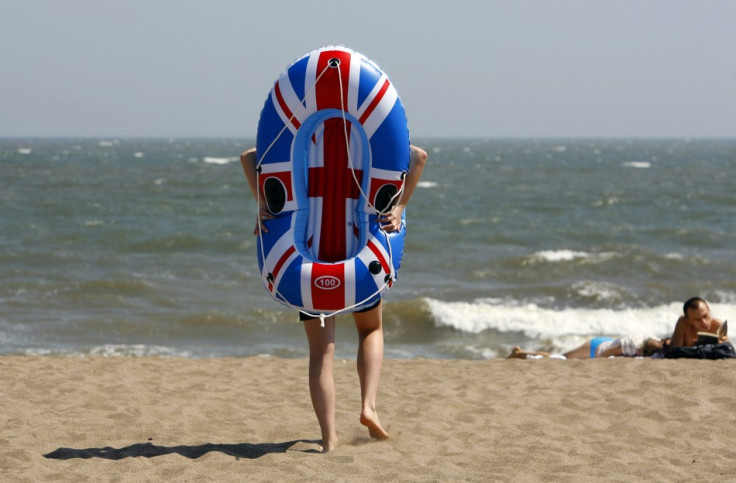 The United Kingdom is set for a two week tropical heat wave with temperatures to soar above 30C for most of the two-week period.
On Tuesday, temperatures soared above 32C in the UK with temperatures on Wednesday, in London and the south east, to stay at a staggering 30C. Forecasters have said that the tropical heat wave will bask the UK in both sunshine and intermittent showers for at least two weeks.
The Met office has reported that the United Kingdom has experienced the hottest start to August for more than a decade with a high of 27C in London -- two degrees warmer than Barcelona.
"It is going to be like an oven with the lack of wind and close cloud covers making it feel almost tropical," said Positive Weather Solutions Forecaster Jonathon Powell.
"In secluded areas, where there is not much wind, we could be looking at highs touching 90F (32C)," he added. "The usual warnings for the elderly and people with health issues should apply over the next couple of days.
"Bright, muggy spells will be interspersed with tropical downpours as hot and humid air gets trapped over south and central Britain. Figures from the Office for National Statistics show a seven or eight per cent increase in deaths during June's 82F mini-heat wave. Keeping yourself hydrated is the key. Checking on an elderly neighbour or relative could be a life-saver," Powell added.
Although some will be enjoying basking in the sun for two weeks it will cause a major health risk to the elderly, sick and young. With no cloud cover and a lack of wind, these groups will be at a far greater risk. The Met office has not yet issued a heat health alert but UK temperatures are on the boundary.
Thundery and heavy showers are set to hit central and northern England today but the south east will remain dry and very humid. Wednesday night is set to be an uncomfortable with humid conditions but Thursday should feel fresher.