Creator of the World Wide Web Sir Tim Berners-Lee has slammed the Trump administration's recent decision to roll back the FCC's Obama-era internet privacy rules as "disgusting" and "appalling". President Trump signed a controversial bill on Monday (3 April) officially nixing rules that would have required internet service providers (ISPs) to seek customers' permission before collecting, sharing or selling their personal data for advertising purposes.
On Tuesday, Berners-Lee received the prestigious Association for Computing Machinery's AM Turing award for his "major contributions of lasting importance to computing." Often known as the Nobel Prize of computing, the Google-backed award is named after British computer scientist Alan Turing who led the intelligence team that broke Nazi Germany's "unbreakable" Enigma Code during the Second World War.
In an interview with The Guardian, Berners-Lee said it was an honour to win the Turing Award.
"It's incredible when you look at the giants of the field, the computer science researchers of the past, it's a great honor to be put on the end of that list," he said.
Berners-Lee conceived of the idea for the web while working at the European Organization for Nuclear Research (Cern) in the late 1980s as a way for researchers and scientists to communicate and share information.
However, the 51-year-old said he never imagined the extent to which his invention would grow and the indispensable influence it would have on the world.
Now a researcher at MIT's Computer Science and Artificial Intelligence Laboratory, Berners-Lee voiced serious concerns about his technology in the wake of recent political challenges and developments.
"It's not the case that an ISP can just spy on people and monetize the data; if they do, they will get taken to court," Berners-Lee told The Guardian. "Obviously the worry is the attitude and the direction. The attitude is really appalling. That bill was a disgusting bill, because when we use the web, we are so vulnerable."
"Because so much of what we do in our lives that actually goes through those left-clicks, it can be ridiculously revealing," he continued.
Berners-Lee said privacy is a "core American value" and not "a partisan thing."
"Democrats fight for it and Republicans fight for it too, maybe even more," he said. "So I am very shocked that the Republican party has managed to suggest that it should be trashed... If they take away net neutrality, there will have to be a tremendous amount of public debate as well. You can bet there will be public demonstrations if they do try to take it away."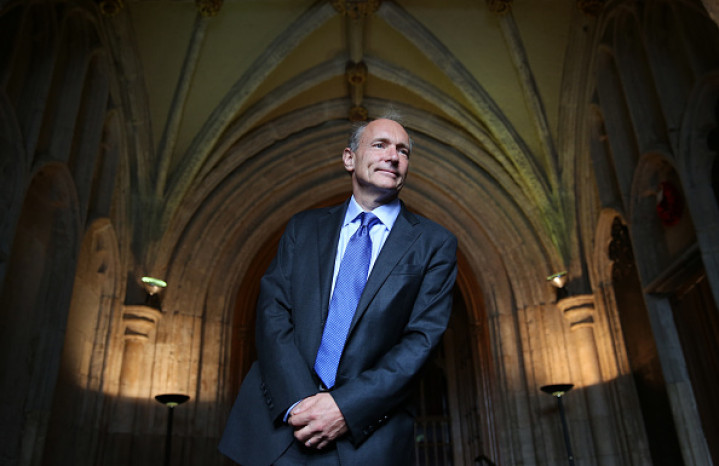 The web inventor also weighed in on the UK's debate on encryption, criticising any attempts taken to undermine the technology as a "bad idea".
In March, UK Home Secretary Amber Rudd said end-to-end encryption in messaging services like WhatsApp is "completely unacceptable" in the light of the Westminster attack saying "there should be no place for terrorists to hide".
However, Berners-Lee warned that allowing authorities to access coded messages may bring serious privacy and security consequences.
"Now I know that if you're trying to catch terrorists it's really tempting to demand to be able to break all that encryption but if you break that encryption then guess what — so could other people and guess what — they may end up getting better at it than you are," he told the BBC.
In March, he wrote an open letter commemorating the 28th anniversary of the World Wide Web and outlined some of the biggest threats his invention faces including fake news, online political advertising and losing control of one's personal data.
"I may have invented the web, but all of you have helped to create what it is today," he wrote. "It has taken all of us to build the web we have, and now it is up to all of us to build the web we want — for everyone."