Amber Rudd has warned internet giants that they face "a lot more than a ticking off" over their lacklustre response to extremist material posted on their sites.
The UK home secretary will reportedly bring in companies such as Facebook, WhatsApp and Google on Thursday (30 March) to "call time" on extremists using social media as their platform.
Speaking to Sky News, she called efforts by internet companies to deal with extremist material published on their sites "inadequate".
"[They need to] take responsibility for the fact that their sites, their platforms, their publishing enterprises are being used by terrorists," she added.
"That's why I've called them in this week. I'm seeing a group of them to work with them to try and set up an industry board. I'm calling time on terrorists using social media as their platform."
Earlier on Sunday, Rudd pointed the finger at WhatsApp, the messaging app that Westminster attacker Khalid Masood sent messages on just two minutes before he launched his brutal assault.
"[Encryption] is completely unacceptable. There should be no place for terrorists to hide," she told the BBC's Andrew Marr.
"We need to make sure that organisations like WhatsApp – and there are plenty of others like that – don't provide a secret place for terrorists to communicate with each other."
WhatsApp uses "end-to-end" encryption, meaning that only the users can read the messages, not security services nor hackers.
"We are horrified at the attack carried out in London earlier this week and are cooperating with law enforcement as they continue their investigations," a WhatsApp spokesperson told IBTimes UK on Monday (27 March).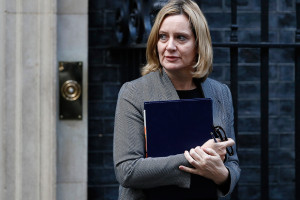 Rudd's attack on encrypted messaging apps follows calls for Google and its subsidiary companies, such as YouTube, to do more to deal with extremist material on their sites.
The Times reported on Monday that hundreds of Isis recruitment videos had appeared on YouTube under usernames such as "Islamic Caliphate", but had yet to be taken down by the video hosting site.
The Times was also behind a call for companies and government agencies to pull out of Google's advertising after the newspaper found its adverts alongside extremist material.
A spokesperson for YouTube told IBTimes UK: "We have clear policies against inciting violence and we remove content that is illegal or that breaks our rules when we're made aware of it."