A wedding guest was saved from drowning after the car he was driving plunged into a river when torrential rain caused a bridge to collapse.
The unnamed man was on his way to a wedding in Linyi, Shandong Province, when the bridge collapsed, sending the car 32 feet into the river below.
Driving with a convoy of three cars towards the ceremony, the car in front passed over unscathed when suddenly the bridge buckled causing the two other vehicles to fall into the river.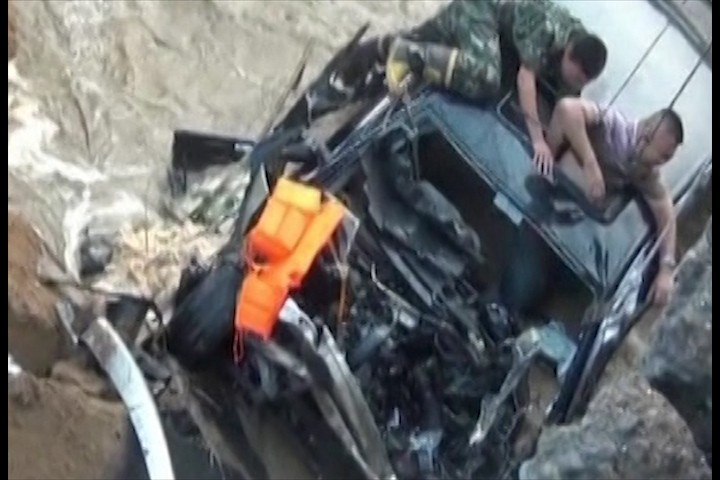 One of the cars was washed downstream, where the two passengers inside managed to clamber out, swim across the fast-flowing river, and crawl up the embankment to safety.
The other car was wrecked upon hitting the bottom of the river, trapping the driver inside. With flood waters rising and mudslides threatening to bury the car, emergency rescue teams rushed to the scene in order to save him. Sliding down the riverbank by rope, they knocked open the sunroof of the car before managing to wrench the man free.
Hurried to hospital, the doctor at the scene reported that the man suffered from some bone fracture and head trauma, but that these were not life-threatening injuries.
The cause of the bridge's collapse comes after the worst rains in 60 years have lashed eastern China. At least 37 people have been killed by severe flooding around the capital city Beijing, and with many other parts of the country devastated by the severe weather, that number is likely to grow. Placing a severe strain on China's infrastructure, the floods are thought to have caused at least £1bn worth of damage.
Typhoon Vincente Shuts Hong Kong and Hits China in Worst Storm in Decade [VIDEO]