The last full week before the election and still one has to essentially ramrod the subject into this weekly wrap. It should not be this way but that seems to be the way of this poll. The week began with Ed Miliband announcing a plan to woo first-time buyers with a promise to scrap stamp duty for prospective home owners.
A rather significant caveat, particularly to London residents, is that the policy will apply only to homes under £300,000.
The announcement did not seem to have the desired effect as the Conservatives jumped out to a 36% to 30% lead over Labour, according to the latest Lord Ashcroft poll. Elsewhere, the Liberal Democrats are down a point at 9%, Ukip slips down two to 11%, the Greens are up three at 7% and the SNP down two at 4%.
Meanwhile, an IBTimes UK investigation found women make up just over 28% of the candidates for the government parties in the capital. The Tories and Liberal Democrats are fielding candidates in all 73 London seats at the general election but fewer than a third of their wannabe MPs are female.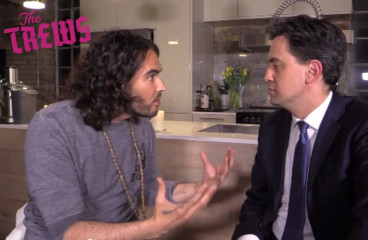 Stuck firmly in second gear, the campaign failed to rev up as the week progressed with Nick Clegg outlining the Lib Dem education "red line" for any coalition deal though word that Miliband visited Russell Brand prompted reporter Lewis Dean to pose five questions the comedian could have asked the Labour leader in his interview.
When the interview was published the next day, Brand was described as grilling Miliband in a "Shoreditch showdown", 16-minute-long video for his YouTube channel The Trews.
Whatever boost the Conservatives got from its poll lead did not last with US pollster Nate Silver forecasting the Tories will win most seats – but still had little chance of securing an outright majority.
Labour's struggles got worse still when a poll in Scotland suggested the party may be heading for complete wipeout north of the border with Nicola Sturgeon's SNP taking all of the seats.
By 30 April, maybe just maybe the gap between the parties that we saw at the start of the week constituted, wait for it, meaningful separation between the Tories and Labour. An Ipsos Mori poll for the Evening Standard newspaper puts David Cameron's party on 35%, up two points, while Labour drifted five points to 30%.
All of which set the stage for the evening's leaders debate. Well, not a debate at all really. More of a Q&A session with the public. But definitely a chance, perhaps the last one, for the campaign to come to life. It did not happen as evidenced by the fact that much of the discussion of the leaders' performances focused on Miliband's near fall as he made his way off the stage and captured in a Vine.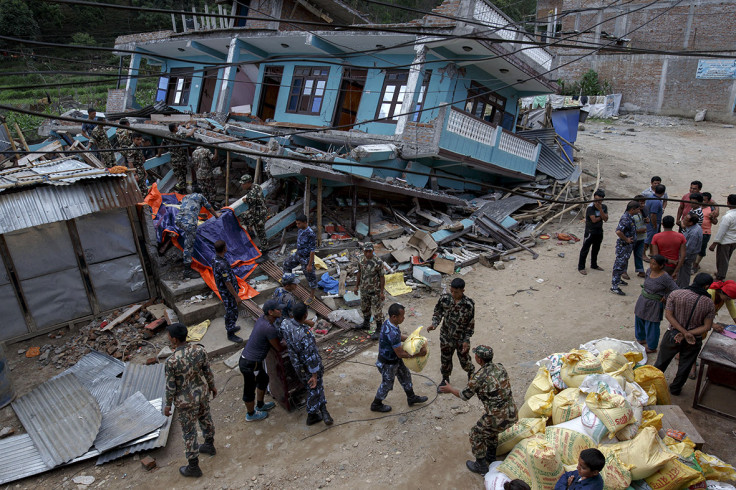 Nepal earthquake
In world news, the focus was firmly on Nepal where a powerful earthquake destroyed much of the country's infrastructure and killed thousands of residents and visitors over the weekend.
In urban areas, rescue efforts focused on finding survivors trapped in the rubble. Further afield, Nepal's hopelessly over-matched resources also struggled to deliver aid to remote Gorkha villages near the quake's epicentre.
Amid the devastation, thousands of foreign tourists who survived the quake struggled to get word back to worried relatives around the world. The communication bottleneck prompted a look at how the internet is attempting to bring relief to hundreds of concerned families, desperate for news about their loved ones. Google's Person Finder facility, which allows people to find out immediately if someone is alive, and Facebook's "safety check" app were among those that caught our eye.
In the ensuing days, the death toll climbed all too predictably and attention turned to reaching the most remote areas of the country, a process hampered by inclement weather that rendered roads unusable. According to Mercy Corps Nepal, in some remote areas villages have been "swept away".
Things got worse still as a mass exodus from Nepal's devastated capital began, following growing fears a secondary crisis involving diseases such as cholera and potentially fatal
diarrhoea in children could strike, as water, sanitation and hygiene issues in the city remain unaddressed.
Just days after a 7.8 magnitude earthquake struck, families became desperate to the leave the capital, in which overwhelmed authorities were trying to cope with a shortage of drinking water, food and electricity.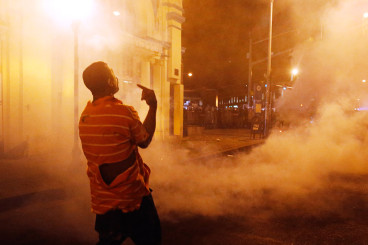 The week's other major story came out of Baltimore, Maryland, which was put under curfew after riots broke out in the city following the funeral of Freddie Gray, who died in police custody.
Headlines from Baltimore included:
Baltimore beholds the damage as Governor Hogan pledges to prosecute rioters.
The Wire stars Andre Royo, David Simon and Wendell Pierce condemn 'selfish' violence.
10 things you need to know about the race riot city.
As Baltimore reels from violent riots, Mayor Stephanie Rawlings-Blake under pressure to prevent repeat.
Mother hailed for giving rioting son a very public dressing down.
Despite unrest in parts, widespread violence was prevented.
Police van passenger Donta Allen says officers distorted incident account.
In other news, senior reporter Gianluca Mezzofiore, who travelled to Sicily to cover the ongoing migrant crisis, wrote about allegations of mistreatment at the Mineo hosting centre near Catania. In a seemingly perverse twist, thousands of migrants who manage to safely reach Italy after a perilous journey across the Mediterranean Sea are exploited and abused by their keepers at Europe's largest migrant holding camp.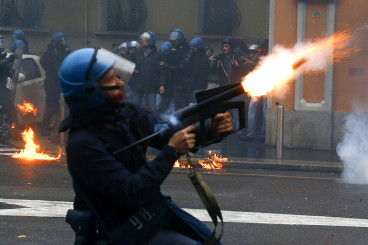 And finally, 1 May marked the opening of Expo Milano 2015. We sent senior reporter Umberto Bacchi, reporter Ludovica Iaccino and video producer Sabine Schwab to the city to cover the opening and check out what's what. The trio arrived on 30 April but rather than heading to the site, found themselves covering a major demonstration as students marched through the city protesting the cost of putting on the exhibition.
The team also put together a comprehensive guide to what's on show at the expo and also what to do in and around Milan. Highlights include:
Italy is ready to serve up a delicious Universal Exhibition.
History and meaning of Universal Exhibitions.
Da Vinci, San Siro, aperitivo and other amazing things to do in Milan.
Monza, Parma and 5 more fantastic day trips from Milan.
Volunteers finish Nepal pavilion after reps forced to leave due to earthquake.
Also this week
Kate and Gerry McCann won £357k in libel damages from a former Portuguese police chief.
Spain raised the minimum marriage age to 16 (we added a comparison table for rest of Europe).
Former President Bill Clinton was paid $2.5m (£1.6m, €2.3m) in speaking fees by major corporations and trade associations even as they lobbied his wife, Hillary, while she was US secretary of state, an IBTimes US investigation revealed.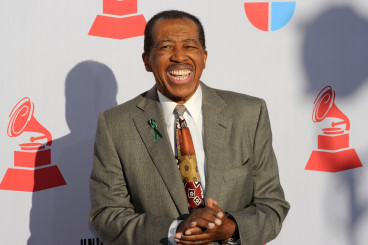 In passing
Keith Harris: Orville ventriloquist dies aged 67 following cancer battle.
Weight Watchers founder Jean Nidetch dies aged 91.
Jack Ely 'Louie Louie' singer dies at his home after 'mysterious' illness.
Ben E King dead: Stand By Me singer dies aged 76.
Weird news
Microsoft How Old website thinks my wife is a 66-year-old man.
Bury: Wanksy artist draws huge phallic symbols to get potholes fixed in home town.
ESPN host would rather retire than cover eSports.
In pictures
Mediterranean migrants: Portraits of people who have crossed from Libya to Italy by boat.
Baltimore riots: Decades of inequality and mistrust in a tale of two cities.
Canada: Warm weather brings groggy grizzly bears out of hibernation.
Sunken WWII Imperial Japanese mega-submarine mapped and filmed off Pearl Harbour.
Baltimore riots: Decades of inequality and mistrust in a tale of two cities.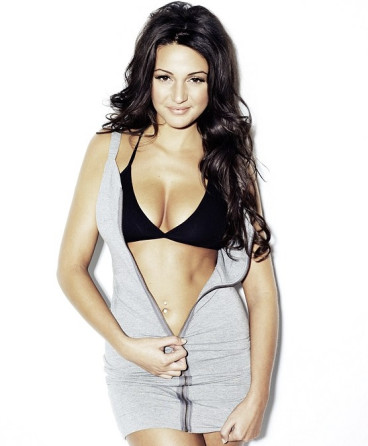 Sex in the news
Michelle Keegan beats Jennifer Lawrence and Kendall Jenner to be FHM sexiest woman in the world.
Courtney Stodden sex tape: Reality star 'makes porn debut'.
Don't miss
Mediterranean migrants meet the Mafia at Sicily's Kafkaesque Mineo camp.
Election 2015: Sheffield Hallam turns on 'traitor' Nick Clegg as Labour storms into contention.
Vietnamese refugee 40 years after fall of Saigon: 'I'll never forget'.
Most read
Audi creates green 'e-diesel fuel of the future' using just carbon dioxide and water.
Mediterranean migrant crisis: The Drowned And The Saved.
Andrew Garfield and Emma Stone: The real reason behind their breakup revealed? It was not work commitments.
Nasa says EmDrive does work and it may have also created a Star Trek warp drive.
Baltimore riots: Pornhub star Mia Khalifa warns protesters not to destroy Old Bay garage.