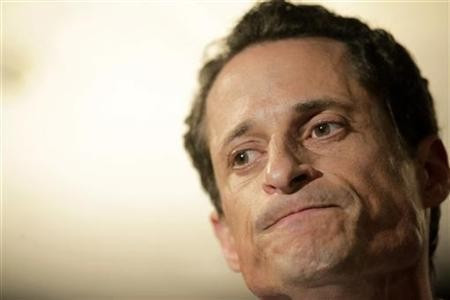 Embattled Representative Anthony Weiner has told friends that he plans to resign his seat amid the controversy over his online relationships with several women, The Associated Press reports.
Weiner became entangled in a scandal over lewd photos and messages he sent to at least six women. During an emotional news conference recently he admitted he had told a string of lies to mask his behaviour.
But Weiner has evidently come to the conclusion that he could no longer serve in the wake of this scandal. The New York Times reports that the 46-year-old came to the conclusion after a long discussion with his wife, Huma Abedin, when she returned home on Tuesday after traveling abroad with her boss, Secretary of State Hillary Clinton.
Weiner's announcement isn't a shock; pressure from senior Democrats has been building for days and reached a head this week when U.S. President Barack Obama publicly suggested that he should step down.
The House ethics committee has formally opened an inquiry into Weiner's conduct, to see if he has actually broken any rules or abused his congressional office.