As the fallout from the Harvey Weinstein sex scandal continues, Hollywood actor Terry Crews has revealed that the industry is rife with "honchos" who abuse their power.
Taking to Twitter, the Expendables star detailed his own sexual assault at the hands of an unnamed executive, saying he understands why women often don't speak out.
He stated that the allegations engulfing Weinstein were giving him "PTSD" because they reminded him of his own experience at a Hollywood function in 2016. "A high-level Hollywood executive came over to me and groped my privates," the 49-year-old star told his 645K followers.
Crews went on to reveal that he immediately wanted to "kick his ass right then" but had to consider how his actions would impact his career as a black man.
"I thought twice about how the whole thing would appear: '240 lbs. Black Man stomps out Hollywood Honcho' would be the headline the next day," he explained. "Only I probably wouldn't have been able to read it because I WOULD HAVE BEEN IN JAIL. So we left."
Although the executive later called Crews to apologise for his actions and he had a witness, Crews said that he chose not to take it further because he risked being "ostracized". He continued: "Who's going to believe you? (few) What are the repercussions? (many) Do you want to work again? (Yes) Are you prepared to be ostracised? (No)."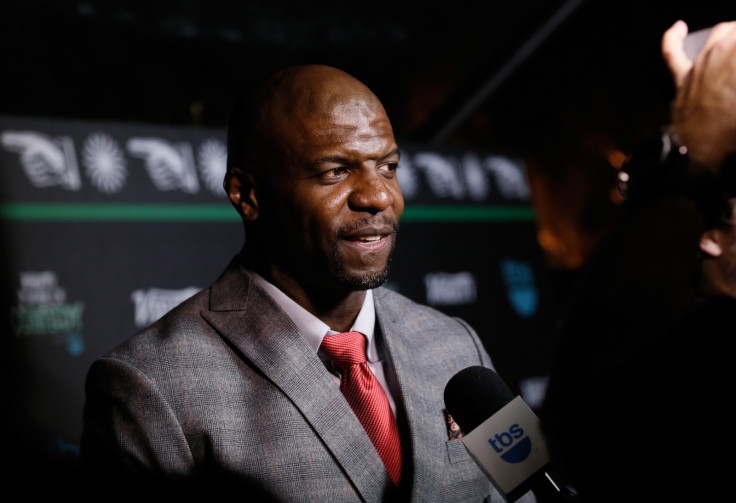 The 6ft 3ins star, who is best known for his role as NYPD Sergeant Terry Jeffords in the sitcom Brooklyn Nine-Nine, concluded his online outpouring by reminding fans that "Hollywood is not the only business [where] this happens" and telling those affected that they "are not alone" because it is often assumed that black men are immune to sexual assault.
"Sometimes you have to wait and compare notes with others who've been victimised in order to gain a position of strength. I understand and empathise with those who have remained silent. But Harvey Weinstein is not the only perpetrator."
The father of four added that he shared the story to "deter predators and encourage someone who feels hopeless."
Crews was hailed as "brave" for spotlighting an epidemic seemingly blighting the movie industry, with some fans urging him to unmask his predator.
"If Terry Crews can be sexually assaulted and fear for his career imagine how intimated children, newbies & women must feel. SAD #Weinstein," one person wrote.
Another said: "Terry Crews' comments are so important because we also don't talk about men who face sexual harassment and abuse by powerful men."
A third wrote: "Name another industry where bosses are so utterly invincible they know they can sexually harass TERRY CREWS"
Gwyneth Paltrow and Angelina Jolie are among the latest stars to have publicly accused Weinstein of sexual harassment. Weinstein has denied the claims and said all his sexual relations were consensual. His wife of 10 years, Georgina Chapman, has now announced that she is leaving him, describing his actions as "unforgivable".