Mark Zuckerberg apologises for Facebook's 'magical' VR tour of hurricane-battered Puerto Rico
Zuckerberg used Facebook's "social VR" tool Spaces to explore the flooded streets of Puerto Rico.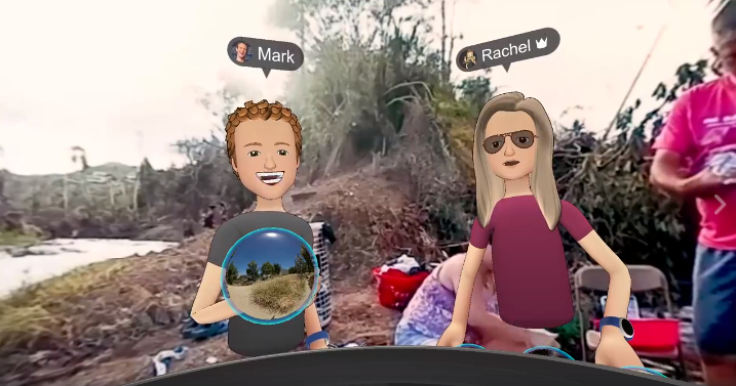 Facebook CEO Mark Zuckerberg has apologised Tuesday after his recent promotion of the company's new "social virtual reality" tool through hurricane-ravaged Puerto Rico drew fiery criticism. On Monday (9 October), Zuckerberg used Facebook's "social VR" tool Spaces to explore the flooded streets of Puerto Rico using a 360-degree video produced by NPR.
The live-stream showed the animated avatars of Zuckerberg and Facebook's virtual reality head Rachel Franklin as they "toured" Puerto Rico and discussed the company's disaster relief efforts in Puerto Rico including donating $1.5m (£1.13m) through the World Food Programme and Net Hope and working with the Red Cross to build "population maps" using artificial intelligence and satellite imagery to help identify populated areas that require aid.
They then "teleported" back to California to promote their upcoming Oculus Connect developer conference.
"One of the things that's really magical about VR is you can get the feeling you're really in a place. Rachel and I aren't even in the same building in the physical world, but it feels like we're in the same place and can make eye contact," Zuckerberg said before sharing a high-five with Franklin with the devastated Puerto Rican homes in the background.
They then made their way to the moon to admire the "absolutely lovely" Milky Way then headed to Zuckerberg's living room to see his dog Beast.
Many people, however, slammed the video as "tone-deaf" and "exploitative" with some describing Zuckerberg as a "heartless billionaire".
"Is this a joke? The Puerto Ricans are suffering and you are using our tragedy for this?? Heartless billionaire," one Facebook user wrote.
One person said the 33-year-old tech executive "can't let a good tragedy go to waste. He has to promote Facebook. Typical. All he talks about (is) Facebook instead of victims and their suffering."
In response to the criticism, Zuckerberg said in a comment: "One of the most powerful features of VR is empathy. My goal here was to show how VR can raise awareness and help us see what's happening in different parts of the world. I also wanted to share the news of our partnership with the Red Cross to help with the recovery. Reading some of the comments, I realize this wasn't clear, and I'm sorry to anyone this offended."
One Facebook user wrote: "It seems it would be way more effective if we could see your real faces. It is so distracting to have virtual characters reporting on a real disaster."
In response, Zuckerberg wrote: "I hear that. When you're in VR yourself, the surroundings feel quite real. But that sense of empathy doesn't extend well to people watching you as a virtual character on a 2D screen. That's something we'll need to work on over time."
© Copyright IBTimes 2023. All rights reserved.