Hollywood has been gripped by the unfolding scandal involving Harvey Weinstein as women in the film industry continue to publicly accuse the producer of sexual assault, harassment and in some new cases, rape.
Weinstein has denied some of the allegations but admitted to some level of fault, and is now said to be seeking help. Over the weekend he was fired from his position at The Weinstein Company, which he co-founded in 2005.
Georgina Chapman, who married Weinstein in 2007, has now announced that she is leaving him, describing his actions as "unforgivable".
"My heart breaks for all the women who have suffered tremendous pain because of these unforgivable actions," Chapman said in a statement. "I have chosen to leave my husband. Caring for my young children is my first priority and I ask the media for privacy at this time."
Who is Georgina Chapman?
Born in London in 1976, Chapman is a fashion designer and actress. She was raised in Richmond, in south-west London, by parents Caroline Wonfor - a journalist - and Brian Chapman, who co-owns fairtrade coffee company Percol.
She studied at Chelsea College of Art and Design, and graduated from Wimbledon School of Art in 2001, after which she began her career as a costume designer having already modelled in several high profile ad campaigns, including Head and Shoulders and Soothers.
In 2004 she launched her own fashion brand - Marchesa - with Karen Craig, whom she met at Chelsea College of Art and Design. Many high-profile names have worn Marchesa clothing, including Selena Gomez, Emma Watson and Kristen Stewart.
Chapman also acted as a judge for the first five seasons of fashion reality competition Project Runway: All Stars between 2012 and 2016.
She met and started dating Weinstein in 2004, after he left his first wife Eve Chilton, who he married in 1987. They tied the knot on 15 December 2007.
Together they have two children. India Pearl, born on 30 August 2010, and Dashiell Max Robert, born on 11 April 2013.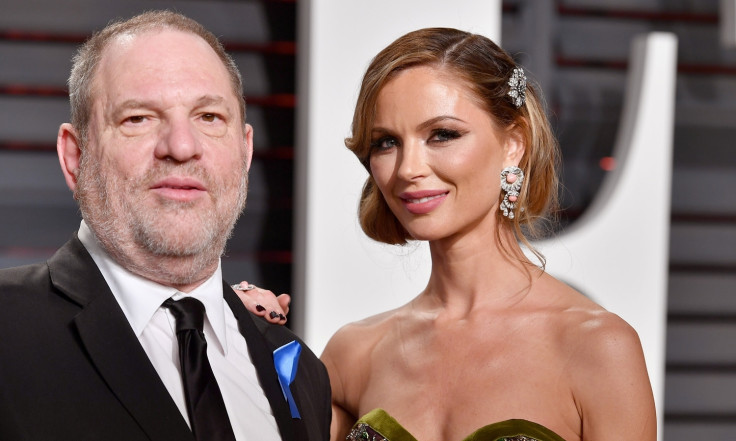 Allegations against Weinstein first became public last week after a story published by The New York Times quoted stories of harassment and abuse from actor Ashley Judd and former Weinstein Company employee Emily Nestor.
The report claimed Weinstein had attempted to cover up his actions by paying off his accusers "for decades".
In response, Weinstein said: "I came of age in the 60's and 70's, when all the rules about behavior and workplaces were different. That was the culture then. I have since learned it's not an excuse, in the office - or out of it. To anyone.
"I appreciate the way I've behaved with colleagues in the past has caused a lot of pain, and I sincerely apologise for it. Though I'm trying to do better, I know I have a long way to go. That is my commitment. My journey now will be to learn about myself and conquer my demons."
That said, Weinstein's lawyer Lisa Bloom said in a separate statement that "he denies many of the accusations as patently false."
On Tuesday (10 October) a piece from The New Yorker introduced accusations of rape from Italian actor Asia Argento and former aspiring actor Lucia Evans.
In response to the claims, a representative of Weinstein said: "Any allegations of non-consensual sex are unequivocally denied by Mr. Weinstein. Mr. Weinstein has further confirmed that there were never any acts of retaliation against any women for refusing his advances."
Numerous Hollywood figures have responded to the scandal with statements criticising Weinstein and his behaviour, including Meryl Streep, Jennifer Lawrence, George Clooney and Judi Dench.
In addition to this, actors Gwyneth Paltrow, Angelina Jolie and Romola Garai have discussed their own encounters with Weinstein.