Harvey Weinstein's wife, the Marchesa designer Georgina Chapman, has announced she is leaving the producer as the number of women who step forward to accuse him of sexual harassment and assault continues to rise.
"My heart breaks for all the women who have suffered tremendous pain because of these unforgivable actions," Chapman, 41, said in a statement to PEOPLE.
"I have chosen to leave my husband. Caring for my young children is my first priority and I ask the media for privacy at this time."
Following the first wave of allegations by several women in a New York Times report, Weinstein, 65, initially said his wife supported him.
"She stands 100% behind me. Georgina and I have talked about this at length," Weinstein told the New York Post.
The media mogul told the Post that Chapman was helping him become "a better human" and to "apologise to people for my bad behaviour, to say I'm sorry, and to absolutely mean it".
The couple, who married in 2007, have two children - India Pearl (7) and Dashiell Max Robert (4).
Since the first report, more women have come forward to accuse Weinstein of sexual harassment and even rape. Actors Gwyneth Paltrow and Angelina Jolie alleged they were sexually harassed by Weinstein early on in their careers.
Meanwhile, Heather Graham told Variety that she had been propositioned by Weinstein and that he had bragged about how his first wife, Eve Chilton, would be okay with it. Graham said she met with Weinstein at his office in the early 2000's for a work meeting.
The actor said that Weinstein offered her a pick of roles before mentioning he had an agreement with his wife.
"[He said] He could sleep with whomever he wanted when he was out of town. I walked out of the meeting feeling uneasy," Graham said. "There was no explicit mention that to star in one of those films I had to sleep with him, but the subtext was there."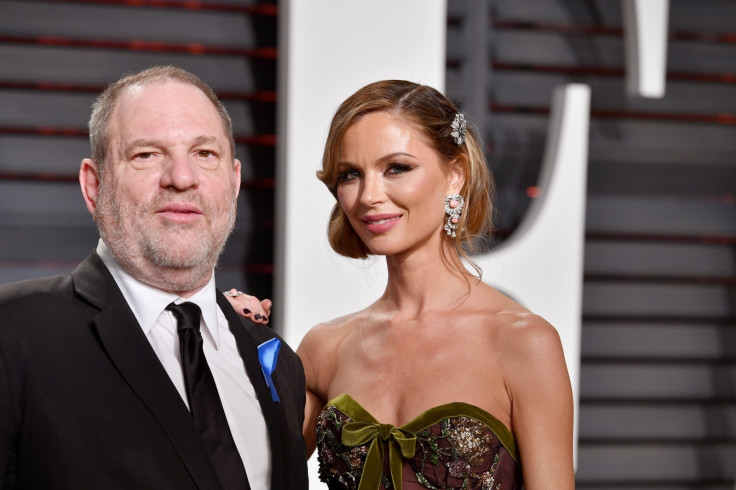 Weinstein and Chilton, who married in 1987, divorced in 2004. He went on to marry Chapman in 2007.
The media mogul was sacked from the powerhouse film studio he founded on Sunday (8 October). On Tuesday (10 October), Paltrow and Jolie spoke to the Times about their alleged harassment.
The New Yorker also published a report on Tuesday in which 13 different women discussed their accounts of alleged sexual harassment, assault or rape. Italian actress Asia Argento alleged Weinstein forcibly performed oral sex on her two decades ago. A spokesman for Weinstein said: "Any allegations of non-consensual sex are unequivocally denied by Mr Weinstein."