When she first walked into the Markazi refugee camp in northern Djibouti, Rania Fadle was overcome with relief. After fleeing her home in Yemen and risking her life at sea, the sight of tents and friendly aid workers made the 23-year-old feel safe. Fast-forward eighteen months and her hope has turned into resignation. "It's as if someone has pressed pause on our lives," she says, sitting outside her UNHCR-issued housing unit.
Fadle is one of thousands of Yemenis who have fled their country since the outbreak of the conflict in March 2015 when Houthi insurgents ousted the government, prompting a Saudi-led air strike campaign. Yemen's oil-rich neighbours, Oman and Saudi Arabia, have closed their borders so most refugees have no choice but to cross the (shark-infested) Red Sea into poorer, yet friendlier, Djibouti.
According to the Regional Secretariat for Mixed Migration, 36,162 Yemeni refugees have landed on the shores of Djibouti since the violence erupted. Over a thousand of them are still living in the Markazi refugee camp, a gated compound outside the small fishing town of Obock, in the north of the country. But the majority have moved to the capital, Djibouti-ville, in search of work or transit visas.
Djibouti has little to offer newcomers besides high unemployment rates and chronic food shortages. The small nation, home to less than a million people, is best known for hosting foreign military bases.
Yet the Djiboutian government has decided to welcome all refugees and guarantee them their right to health, education and work. "They are our brothers and sisters, it would be inhuman not to help," says Obock's prefect, Hassan Gabaleh Ahmed. His dilapidated office building with rusting chairs and just one phone line is only a few hundred metres away from the beach where most Yemenis come ashore.
Djiboutian officials may be acting out of more than just goodwill – refugees could actually be boosting the local economy. The most popular restaurant in Obock, frequented by locals and aid workers alike, is run by refugees. Yemenis have also set up their own moto-taxi service to help camp dwellers go to town and use the Internet café or buy sweets for their children. "Refugees are generating a lot of business," says Ahmed Houmed, the camp administrator for the Djibouti refugee agency.
We used to have a beautiful home and now we live like animals.
Before her house was bombed to the ground and she had to flee from Aden, Haifa Abdul-Raheem Ahmed ran a supermarket. The 48-year-old widow now shares a tent in the Markazi camp with her three daughters but has plans to get back into business.
"This will be my shop!" she says, pointing proudly at the dusty lot where she is building her convenience store. "We have no home to go back to," she says, "so we must find a way to make a living."
Back in the capital, Djibouti-ville, many wealthier Yemenis are going into the food industry. Aziz Almohai used to be the manager of a four star hotel in Sana'a, Yemen's capital. Now, he runs the newly opened restaurant 'Happy Yemen' where the scent of beef stew and warm malawah – traditional Yemeni flatbread – mix with the faint smell of drying paint. "People in Djibouti are very kind and welcoming," says Almohai, who employs both refugees and locals.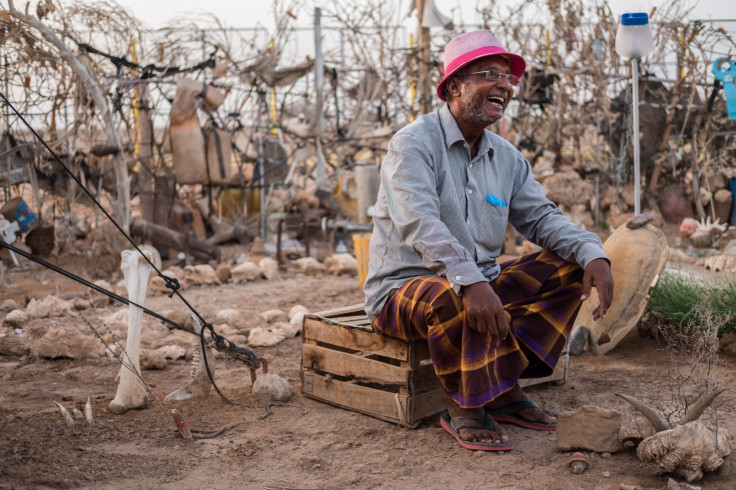 Still, not all Yemenis are finding the transition easy. Living in the city is expensive and language is a barrier – Djibouti is francophone and most Yemenis speak English. Many Yemeni job-seekers in the capital run out of money and have to return to the camp, where temperatures can often reach 50C and violent sandstorms imprison people for hours on end.
"We used to have a beautiful home and now we live like animals," says Abdoulkader Saleh, who worked as a translator back in Yemen. He shares a small housing unit in the camp with his wife, daughter and two sons. The eldest suffers from PTSD and often forgets why they are in Djibouti. "I hate having to remind him," says Saleh.
You become very patient when you have no choice.
It's no surprise many Yemeni refugees have decided to go back home. "We tell them it's not safe to return, but we can't stop them from leaving," says Salim Jaafar, UNHCR camp manager. Many have taken the three-hour boat trip to Yemen only to be pushed back by the ongoing fighting, often more than once.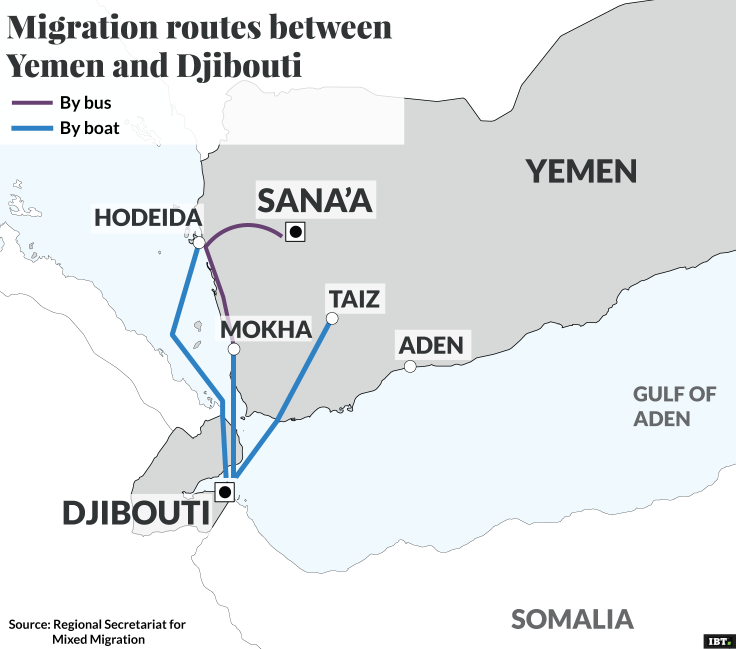 The number of arrivals has been slowing down in recent months, but with over two million internally-displaced Yemenis and no peace agreement in sight, the influx could increase again, warns Jaafar. And the patience of Djiboutian authorities may start to wear thin. "We are a poor country," says prefect Ahmed, "if they keep coming, we will need more support."
Meanwhile, thousands of Yemenis refugees wait. For what exactly, they don't know. Maybe the next ceasefire will last or they'll find a good job in Djibouti. Maybe they will stay long enough in the camp to qualify for repatriation to a Western country. As Fadle puts it, "you become very patient when you have no choice."
---
Laura Secorun is a foreign correspondent based in Nairobi, Kenya, writing on issues of development and migration
---