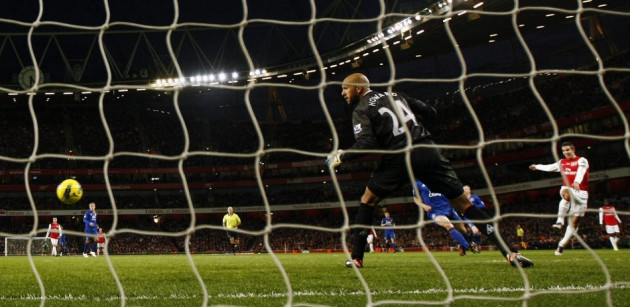 Arsenal manager Arsene Wenger believes his side's awful start to the season is firmly behind them, after they returned to the top four with victory over Everton.
The Gunners' sunk to 17th in the Premier League in September when they took just seven points from a possible 21 in their opening seven games.
However, Saturday's 1-0 victory against Everton extended Arsenal's unbeaten run to eight matches and propelled Wenger's side into the top four for the first time this season.
"We [Arsenal] had a very bad start but now we are consistent," Wenger said. "Our spirit is good, we're focused. Consistency is highly needed. If we can maintain that we have a good chance."
Chelsea will move above Arsenal if they avoid defeat against Manchester City on Monday night, but for Wenger the turnaround for his side has been remarkable.
"In some press conferences I had to say we would not play for relegation so you could not predict that we would be where we are today," Wenger said.
"It is a virtual top four at the moment because, if Chelsea win on Monday, they will be in front of us.
"What is important for us is that we started from so deep that nobody could have predicted that, at the beginning of December, we would be where we are now.
"We have to keep going because we are still far away. The only thing you can do is focus on the next game and prepare the team well."
Robin van Persie's spectacular volley gave Arsenal a well-earned victory against a resolute Everton side at the Emirates.
The Dutchman notched his 33rd league goal of 2011 to move within three of Alan Shearer's 1995 record of 36.
"We got out of jail with a fantastic goal," Wenger added. He [van Persie] got us an exceptional goal at the moment of the game where we struggled a little bit to create chances.
"He delivered something special and three important points. Robin said himself he did not have his best game, but what is important is that you are efficient.
"It is a tradition in football that the goal scorers always get the plaudits but I must say Robin deserves that because he has always been remarkably consistent."
Former Arsenal legend Thierry Henry watched from the stands on Saturday as van Persie fired the Gunners' to victory. After the match, Henry was quick to praise the Dutch international and revealed his admiration for the player's impressive form this season.
"What can I say about Robin?" said Henry. "I saw him come in here and at the very beginning he wasn't the easiest guy to deal with, like I wasn't I guess.
"But it's amazing to see how he has improved. That tells you how intelligent a player he is. I'm just in admitation. What he is doing right now, thank God he is playing for us and doing well. It's nice to see a player improve.
"I'm just saying that what van Persie is doing now, in terms of not just goals but ratio of goals, apart from [Cristiano] Ronaldo and [Lionel] Messi it is ridiculous.
"He is doing something amazing. That also tells you how important it is for him to not get injured. He has never had a chance to have a full season since he has been here - he was always out for two or three months.
"For the very first time he can go on a roll now and you can see the difference. I can only admire what he's doing now."