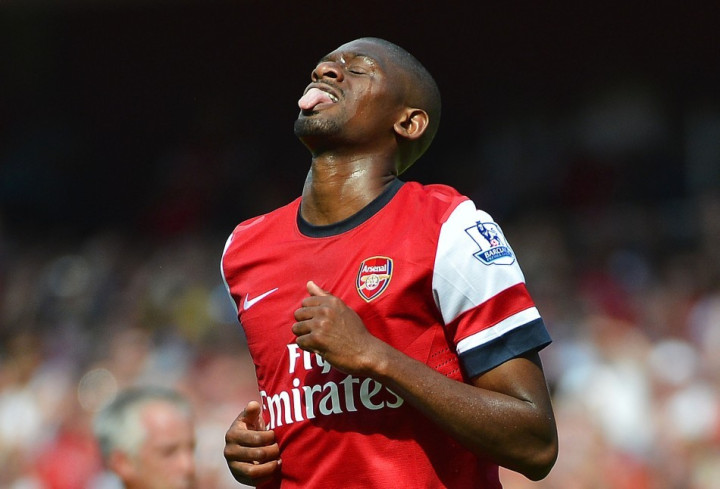 Arsenal manager Arsene Wenger has claimed he wants Abou Diaby to adapt to the holding role this season – in order to address the shortage of midfielders in his squad.
The French boss spent around £80m in the summer to bolster his ranks with Alexis Sanchez, Mathieu Debuchy, David Ospina, Calum Chambers and Danny Welbeck.
However, Arsenal failed to secure a much-needed defensive midfielder, even though Wenger admitted he was keen on bringing one – with Real Madrid's Sami Khedira, Sporting Lisbon's William Carvalho and West Ham star Alex Song all heavily linked with a move to the Emirates.
While recent reports claimed the French boss will renew his efforts for Khedira in January, the manager now suggests that Diaby can be a good back-up for Mikel Arteta and Mathieu Flamini.
Wenger indeed handed Diaby an opportunity during the Capital One Cup defeat against Southampton, after being on the side-lines for more than a year.
"I try to transform it [Diaby's position], yes, because I feel because he was injured for a long time and he has the physical potential to win the challenges, to face the game will be easier for him than to play with his back to goal with the injuries he had," Wenger told Arsenal's official website.
"I tried to develop him in a deeper role, I think he can do it. He can be very interesting because he has all the attributes to do it. After, he must love it as well because he's more of an offensive-minded player."
Diaby ruptured the cruciate ligaments in his left knee during a training session in March 2013, and made just one appearance for Arsenal last season, on the final day of the campaign.
"It was difficult for him but he got 60 minutes and he was not injured. At some stage he has to play. He had 90 minutes [for the under-21s] at Villa last week. He played 60 minutes tonight. He was not bad, he was acceptable as a performance but he tired after an hour."