French striker Nicolas Anelka is facing a storm of criticism after appearing to make an anti-Semitic gesture during West Bromwich Albion's 3-3 draw at West Ham United on Saturday.
The striker appeared to celebrate scoring West Brom's equalising goal in the first half with a 'quenelle' gesture, popularised by the controversial French comedian Dieudonné M'bala M'bala.
Likened to a reverse Nazi salute by Jewish groups, the gesture involves placing one's hand on the opposite shoulder and pointing diagonally downwards.
"It is just similar enough to the Nazi salute to make its meaning clear, but not so similar that the gesturer could be subject to criminal charges," Cnaan Liphshiz has written in The Times of Israel.
Dieudonné faces a ban on performing in France after making anti-Semitic remarks in his shows.
Earlier this month, he was forced to pay a $36,000 fine for inciting hatred of Jews.
Though he insists the gesture is anti-establishment rather than anti-Semitic, it is regarded as highly controversial in France.
On anti-Semitic sites and social networking forums, users have posted pictures of themselves performing the quenelle in front of Jewish sites and Nazi concentration camps.
In September, two French soldiers were disciplined for performing the quenelle in front of a synagogue and posting the picture online.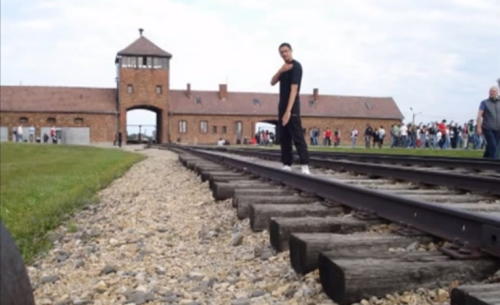 West Brom's acting head coach Keith Browning said that the striker is surprised by the controversy, and merely wished to pay tribute to his friend Dieudonné.
"It is dedicated to a French comedian he knows very, very well. He uses it in his act and I think speculation can be stopped now, it is absolute rubbish really," said Downing.
"He is totally unaware of what the problems were or the speculation that has been thrown around, he is totally surprised by it."
The Football Association has launched an investigation into the incident, and will impose a fine or ban on Anelka if they find that he acted improperly.
Violence against Jews has been on the rise in recent years in France. In March 2012, a rabbi and three students were killed at a Jewish school in Toulouse.