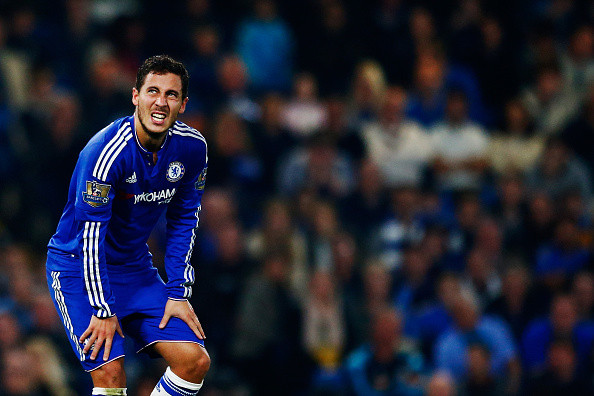 Jose Mourinho has confirmed Pedro Rodriguez, Loic Remy, Branislav Ivanovic and Thibaut Courtois will remain on the sidelines for the Chelsea's visit to West Ham on Saturday 24 October. The Portuguese boss also refused to confirm if Eden Hazard would feature in his starting line-up after the Belgium international was dropped for the 2-0 win over West Ham last weekend.
Chelsea visit Upton Park in search of a much-needed victory to capitalise on the Villa win and turn their season around. West Ham, however, arrive in impressive form, sitting fourth in the table and having defeated Arsenal, Liverpool and Manchester City already this season.
And Mourinho has confirmed he will take on the task with the same squad that drew against Dynamo Kiev in midweek, as Pedro, Remy, Ivanovic and Courtois are yet to recover from their injuries.
With Pedro out of action, Hazard would normally be a certain starter. However, Mourinho left his role in doubt, questioning the player's commitment to defending in a press conference.
"Both clean sheets based on good team work [not just the goalkeeper]. I try to make the best decisions for the team, I analyse what I think the game can be, I try to reduce the unpredictability of every match. You are right, this is not about defenders, it's about the team as a team and they defended well in both our last matches. Hazard was part of that team that kept a clean sheet. I don't know [if he will play on Saturday]."
Asked about Hazard's form so far this season, Mourinho added: "I don't have to answer you. Lots of people with an opinion have been speaking about him. I prefer not to individualise. I am happy with his contribution against Dynamo and that's it."
Mourinho, meanwhile, has expressed his displeasure with the media after being accused of intimidating two fans who were filming him on their phones while walking of the streets of London.
"You don't get good and funny headlines from me. Because I'm going to treat your bosses the same way they treat me. No respect, no respect. And I'm not speaking about football," he said. "Football I'm ready to accept any kind of criticism, even the stupid ones. Private life and stupid things that you bring to the light, I don't like it. So we go to a different level of professional relationship."