Diego Costa: Nobody likes Chelsea and I am the Premier League bad guy since Luis Suarez left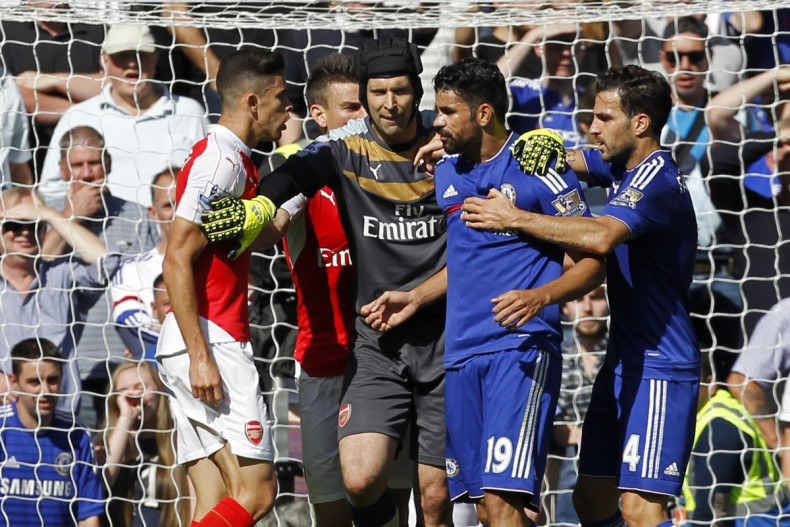 Diego Costa believes he is the new "bad guy" of Premier League football, following the departure of Luis Suarez from Liverpool to Barcelona. The Spain international says he has come to the realisation that Chelsea are disliked by the rest of the English football community as they attempt to turn around their poor start to the season.
Costa has been under repeated scrutiny for his behaviour since he joined Chelsea from Atletico Madrid in 2014. Last season he was castigated for stamping on Emre Can during a game against Liverpool, while he was recently placed under the spotlight after the FA retrospectively punished him with a three-game ban for violent conduct for shoving his hand in Laurent Koscielny's face during a feisty derby with Arsenal.
The Spaniard says he is happy in the Premier League, but worries that he may be forced to leave, as Suarez was, because of his "bad boy" image.
"I think Luis Suarez left this country because of how he was treated and made out to be the bad guy. Do I feel like I have taken his place? That is crystal clear. It is obvious that there are people after me. If you do something wrong and it makes the papers, then okay, that's fair," Costa said to Standard Sport.
"But when people are after you all of the time, when you're always the headline, that's not fair. I hope they're not after me. I hope it's not the case. I hope it's something that's just in my head."
The former Atletico Madrid striker admitted he is not an angel and did not hesitate to accept his wrongdoing during the London derby.
"The critics have to carry on doing what they do but they should always be truthful. If I do something wrong, I am the first one to accept the criticism, I have no problem with that," he added. "For example, my behaviour in the game against Arsenal [where he earned his ban for slapping Laurent Koscielny] was not the best, I know that. But it was not just me. There was someone else involved [Gabriel Paulista].
"Many, many times I get kicked, I get elbowed — that's part of football. It happens on the pitch but I never complain. Football is a contact sport and people have to understand they can't change it into theatre.
Meanwhile, in another interview with The Sun, the striker added that the three-match suspension was too much and insisted he will not change his behaviour.
"Many times players have done stuff to me, like kick me. But I am not a cry baby. I have 100% support from my manager, the club and the Chelsea supporters. So other people, other opinions, I don't care, I'm not really bothered. I will not change unless my manager or the people from my club or my supporters tell me."
Costa hopes to put the controversy behind him now and focus on helping Chelsea turn their campaign around. He warns that it will not be easy though, as other Premier League fans are delighted to see the Stamford Bridge side struggle.
"We know we can turn this around because it is the beginning of the season and we also know we are the only ones who can turn this around," he said. "We are alone on this because Chelsea, it is a club that the supporters give 100% support to but nobody else likes them. I am just beginning to understand this."