Nairobi Westgate Mall Siege: Up to 100 Feared Dead and Injured in Battle with Islamic Gunmen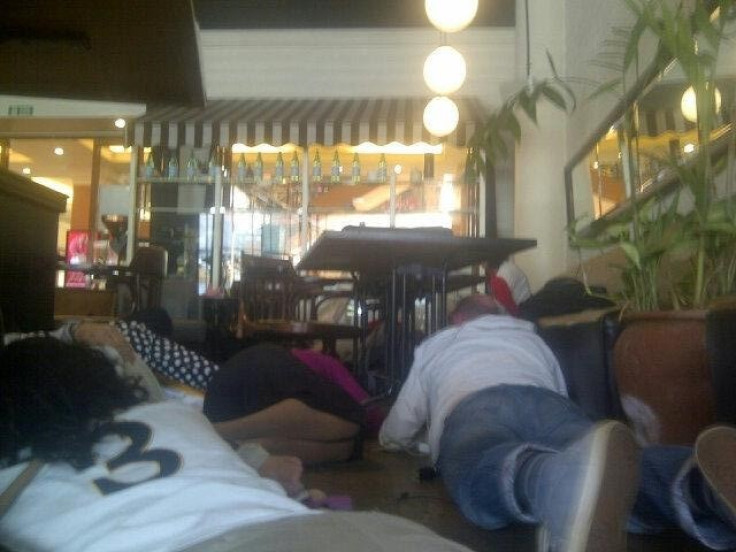 Gunmen threw grenades and opened fire Saturday at Nairobi's most upscale mall, witnesses and police said.
Large pockets of people trapped in the mall came streaming out over the course of an hour. At least a half dozen were bloodied and were grabbed by first responders. Many clutched small children. Others were crying.
Mall guards used shopping carts to wheel out wounded children and at least one man.
The volleys of gunfire moved outside the mall after police arrived nearly half an hour after the attacks began and engaged the gunmen.
Arjen Westra, a local journalist and blogger, was at the upscale mall when the battle erupted. He says he saw 10 casualties. Other eyewitnesses told him they had seen 50 bodies on the third floor.
The Kenyan Red Cross have confirmed 22 fatalities.
One witness said the attackers threw grenades into the building at about midday local time in an incident that appeared to be an attack rather than an armed robbery.
There are fears that there may be some hostages in the mall, often frequented by wealthy Kenyans and expatriates, the NTV channel reports.
Abdi Osman Adan, a journalist in Nairobi, told Sky News staff at a supermarket and a jewellery store had reportedly been taken hostage.
According to the centre's website, it is the city's "premier shopping mall" and offers a "serene and safe enviornment away from the city centre hubbub".
Armed police shouted "get out, get out", and scores of shoppers fled the building, Reuters reported.
"They don't seem like thugs, this is not a robbery incident," said Yukeh Mannasseh, who was on the mall's top floor when the shooting started. Other witnesses described the gunmen as Somalian in appearance.
Manish Turohit, 18, says he saw gunmen with AK-47s and vests with hand grenades on them inside the mall. He escaped after hiding in the parking garage for two hours.
A group of people remain in hiding inside the mall.
READ: Nairobi Westgate Mall Siege: Islamic Militant Fears as White Europeans and Wealthy Kenyans Targeted
Nairobi Westgate Mall Siege: Muslims Told to Leave as Islamic Terrorists Seize Hostages

© Copyright IBTimes 2023. All rights reserved.