Wetherspoon's pint is half empty as pub firm issues profit warning despite sales increase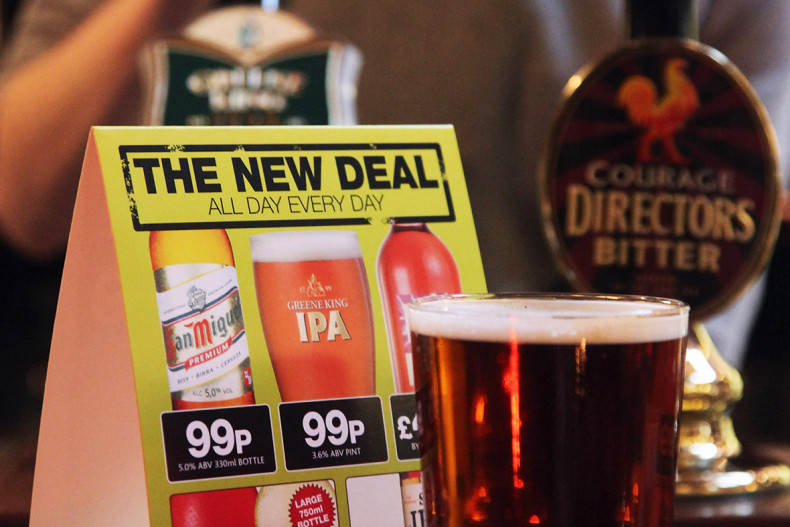 Shares in JD Wetherspoon plunged by more than 9% in early trading on 20 January, after the pub operator warned that profit for the full year will be at the lower end of expectations.
The London-listed company said total sales in the 12 weeks to 17 January rose 6.3% year-on-year, while like-for-like sales climbed 3.3% compared with the corresponding period a year ago. Meanwhile, in the 25 weeks to 17 January, total sales were up 6.1% year-on-year and and like-for-likes rose 2.8%.
However, Wetherspoon said it expects its operating margin for the six months to 24 January to be approximately 6.3%, 1.1% lower year-on-year, which the group attributed to a 5% increase in hourly staff pay in October 2014 and a further 8% in July 2015.
In November 2015, following the group's trading update, chairman Tim Martin warned higher labour costs "will be an important factor in the outcome for this financial year" and on 20 January, he said profits for this year were "likely to be towards the lower end of analysts' expectations".
Wetherspoons added it has opened five new pubs and sold two since the start of the financial year and remained on track to meet its target of opening between 10 and 15 pubs over the course of its financial year.
"Few industries feel the January blues more acutely than the pub sector. But as the first of the big pub chains to report its Christmas trading figures, JD Wetherspoon has provided some much-needed cheer – and thrown down the gauntlet to its rivals," said Robert Rawlinson, chief executive of pub technology platform Screach.
"Aggressive promotions by the supermarkets are a constant challenge to pubs targeting the most price-sensitive sector of the market, but the Wetherspoon format has a wide enough appeal to take this threat in its stride.
"Of course, pubs and pub chains will naturally do well over the festive period. But with 13 UK pubs still shutting their doors every week, the broader problems facing the sector cannot be ignored."
However, analysts at Numis were not as impressed and hit the stock with a further downgrade. "The pace of like-for-like profit decline has slowed, but only due to softer competition," they said in a note. "Wetherspoon's business model is still compromised in our view. Reflecting margin weakness, we have cut our forecasts by a further 4%."