A Norwegian deposit-based system which involves returning plastic bottles to shops to earn back money may soon come to the UK.
Half of all plastic bottles are recycled in the UK, according to Recycle Now. That means that much of the rest is litter, goes to landfill or ends up in the sea.
In a bid to raise the proportion of recycled bottles, a British ministerial delegation has visited Norway, which recycles 97% of its bottles, to learn about the deposit return system (DRS).
What is deposit-based recycling?
The scheme works by charging customers a small fee (10p or 25p depending on size) when they buy a bottle of something and then giving the money back to them when they return the bottle.
Consumers can return it to any participating store, using a 'reverse vending' machine to exchange their used bottles for a voucher to claim back their money.
Who pays for it?
DRS is partly funded by unclaimed deposits. Drinks manufacturers pay the rest.
Which countries have deposit recycling?
Similar schemes are being used in Germany and some states in the US and Canada. Scotland announced plans to introduce it late last year.
Could it dramatically boost recycling in the UK?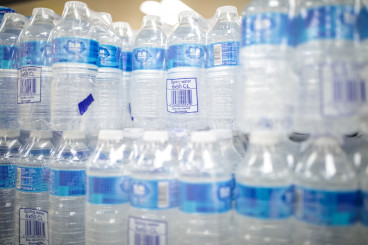 In the UK over 35.8 million bottles are used every day, with 16 million of these failing to reach plastic recycling facilities, according to RecycleNow.
What is evident is the hugely beneficial impact the deposit-based recycling scheme has had on Norway. This is clear from the fact that out of all the plastic bottles washed up on Norway's coastline, six out of seven are foreign. Many of them originate in the UK.
Campaigners with Zero Waste Scotland claim that a DRS could improve recycling rates to over 85% and reduce litter considerably.
Why don't we start it now then?
The UK does not have the reverse vending machines and coding used by many of the deposit schemes in Europe. Suddenly introducing this for many thousands of different bottles and cans would be expensive and time-consuming. For a DRS scheme to succeed in the UK, it would arguably need to be a gradual process.