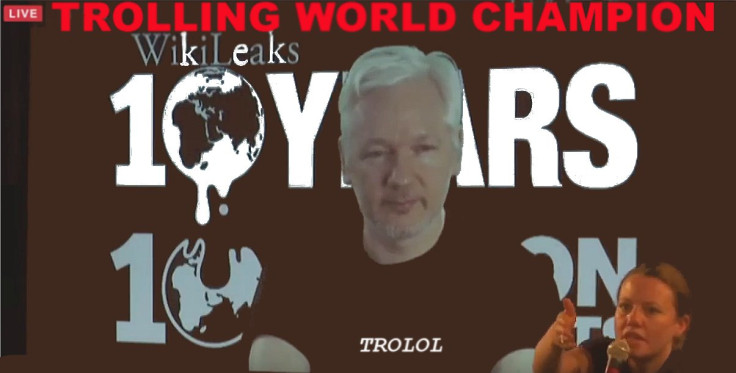 Julian Assange has disappointed WikiLeaks fans after failing to release any new documents at all at the much-hyped WikiLeaks 10th Anniversary press conference, which was streamed live on the internet from Berlin at 9am BST on Tuesday 4 October.
Thousands of users tuned in to the live video stream of the two-hour-long event, which was broadcast on the YouTube channel of independent US political news and opinion site Right Side Broadcasting.
There had been numerous rumours that Assange would be releasing a new batch of data that would be detrimental to US presidential candidate Hillary Clinton and the US Democratic Party.
Instead the event had a consistent self-congratulatory tone as WikiLeaks journalist and event host Sarah Harrison walked viewers through a summary of the whistleblowing platform's decade of achievements, and Assange only briefly hinted at the news that people really wanted to know.
"We have a great many upcoming publications.... the material WikiLeaks is going to publish before the end of the year is of significant moment, affecting three powerful organisations in three powerful states, as well as the information previously referred to about the US electoral process," said Assange.
"We're going to need an army to defend us"
Assange hinted he is planning a huge expansion for WikiLeaks, and is keen to add about 100 extra editorial staff to the organisation over the next two years.
"We're going to need an army to defend us from the pressure that is already starting to arrive. That pressure is being placed on a number of elements closed to us. The state that has graciously given me asylum, but it will not succeed. There will be consequences. If I am unable to continue or if the Ecuadorian people are blamed for WikiLeaks publications, I will have to resign," he said.
Assange announced WikiLeaks has started a new project to recruit people across the world to defend its publications, and plans to release more details soon. In the meantime, he would like interested people to follow @WLtaskforce and @communityWL on Twitter, where guidelines will be issued on how individuals can help to promote WikilLeaks' work.
He is also keen to hear from journalists in the US and to collaborate with them on releasing more new documents, but he wants to vet the publications first to ensure that they take angles he agrees with, so interested publications are invited to email the organisation and apply.
His latest book is currently selling at 40% off
Assange also promoted a new book called WikiLeaks Files, which is currently being sold at a 40% discount, and mentioned two additional books that will be out later this year.
"We're a conservative media source and have crews embedded with the Donald Trump campaign to cover all his live events. Our viewers asked for it, so we decided to go with it," Right Side Broadcasting's chief executive Joe Seales told IBTimes UK.
"We were told by many pundits on the right to expect the 'October surprise' in this news conference that was to supposedly be the 'end of Hillary Clinton' as we know it. I had my doubts this would actually happen during this event simply because no one at Wikileaks had confirmed there would be a release of any information tonight or any other day for that matter.
"I believe this was played up by many on the right who just can't wait to see Hillary's campaign go up in flames, which you can count us as being among those individuals. The bottom line is – they will release the information when they see fit to. The information will most certainly be damaging to Mrs Clinton, but whether or not it will derail her campaign will depend largely on whether the US media spends a lot of time covering it. And from previous experience, I wouldn't count on that."
Angry Twitter users – including the media, Donald Trump supporters, WikiLeaks fans and people interested in the US presidential elections and Hillary Clinton – took to Twitter to vent their frustrations at Assange for not releasing the documents, with many calling WikiLeaks and Assange a "troll".
Alex Jones, the host of US internet news show Infowars, said in his reaction programme: "I give this press conference an F-. This was a train wreck. And by the way, buy my book and DVD."