Following the dramatic surge in price of Bitcoin, hobby investors are hunting for the next cryptocurrency to take off.
Ripple was released in 2012 to allow currency exchange in less than four seconds. For example, if you wanted to send £100 to someone in Europe, the money would be converted into Ripple, sent to your friend abroad and then they would convert it locally into Euros.
In the past year, Ripple has risen in price by almost 60,000% - from 0.6 US cents in January 2017 to $3.50 on 5 January, 2018. If you had invested $100 in Ripple this time last year, you would now be sitting on more than $58,000.
How can you buy it?
Buying Ripple is no different to buying Bitcoin, you need to be signed up to a cryptocurrency exchange. Coinbase, Bitstamp and Coinfloor are all popular, but it pays to do your research on what will be the best site for you.
For a detailed breakdown of how to buy, IBTimes UK wrote a guide in May 2017. You can also visit cryptocompare.com to see detailed reviews of each site.
Should you buy?
Ripple has seen a sizeable rise in value over the past year, but no investment is ever a sure thing. Because Ripple is still relatively new, it can still be diminished by competition. Anyone looking to buy should always undertake a decent amount of research before investing.
Ripple's own value spike is being attributed to the market surge caused by Bitcoin. As more people witness the potential profits of cryptocurrency, more people are getting on board.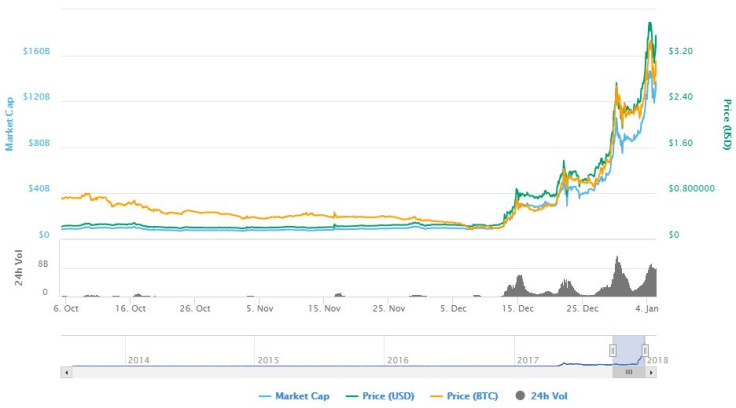 Why pick Ripple over other cryptocurrencies?
In November 2016, IBTimes UK met with managing director of Ripple Europe, Daniel Aranda, in Canary Wharf. In a detailed interview, Aranda explained the advantages of Ripple. "We are bringing internet infrastructure to financial services," he said. "If you send an email you want people to receive it immediately, if you send a payment you want people to receive it immediately."
"Our overall belief is that over the next couple of years you are going to see a lot of new kinds of demands and expectations from the market on financial services and a lot of those demands come from expectations set by the internet," he added.
One of the main advantages of Ripple, Aranda said, could help to reduce one major annoyance of bitcoin – the hefty transaction fees.
"If I send you a text message I would expect you to receive it immediately," he said. "If I send you a package I would expect you to receive it pretty soon but I should also be able to track it online, if I order an Uber I would expect it to be here in two or three minutes.
"Everyone wants everything immediately and on-demand.
"The same is true on the corporate end. If you think of the new corporates like Uber or Alibaba or Airbnb, they were born online from day one and their needs have changed a lot as well. The overall thesis of the company is that the financial system we know today was built for the 1970s world and people have changed – and those changes have largely been spurred by the internet."