The Cold War may have been over for a quarter of a century, but there were worried faces and Twitter-talk of World War III on the morning news emerged that Turkey, a member of the Nato defence alliance, had shot down a Russian Su-24 jet at its border with Syria. It is the first shooting down of a Russian jet by a Nato member since 1953.
Details are sketchy with both the Russians and the Turks accusing one another of being in the wrong. Turkish authorities say the Russian jet violated their airspace and did not respond to 10 attempts to communicate with it. The Kremlin says its jet was more than a kilometre in Syrian airspace. Both pilots, who abandoned the aircraft, are thought to be dead. Under Article Five of the Nato treaty, to which its 28 members are signed, including the US and UK, there is a collective responsibility to defend states which come under armed attack.
"If Nato can, they will make sure that this stays as an issue that's largely dealt with between Turkey and Russia," Michael Stephens, a research fellow at the Royal United Services Institute (Rusi), a security thinktank, told IBTimes UK. "Of course, Nato has to come down on the side of an ally, a member state. That's why Nato exists, right? It's primarily because of Russia. So they're not just suddenly going to sit there and say Russia is the good guy in all of this [...] but ultimately the idea will be to make sure that this stays as a one-off incident, as something that is mostly a bilateral issue between Turkey and Russia about airspace and sovereignty."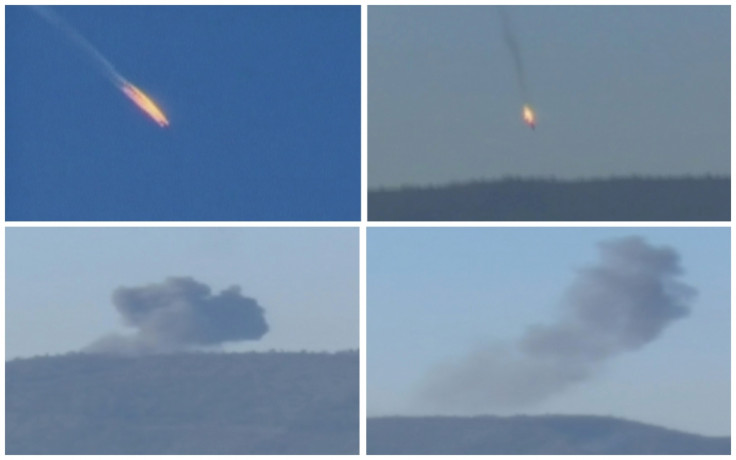 The latest diplomatic stand-off comes at a time when relations were slowly healing between Russia and the West having soured amid the Ukraine crisis. Both are uniting against a common enemy, the militant terror group Islamic State (Isis), which has murdered Russian and western civilians in recent weeks. Vladimir Putin, Russia's president, said his country had been "backstabbed" by Turkey, which he accused of aiding IS by buying its oil on the black market.
Russia is engaged in military action in war-torn Syria on the side of President Bashar al-Assad and is hitting rebel targets as well as IS. The West wants Assad gone, but in the wake of IS terror attacks, such as in Paris, the priority has shifted to fighting Islamic extremists. Aware of the dangers after the Su-24 was shot down, EU Council President Donald Tusk urged all parties to "remain cool-headed and calm".
"I think any attempt to invoke Article Five is not going to be met with much support from the West," Stephens said. "There are already a few tensions between Nato members and Turkey over their position on Syria anyway, so it's unlikely that we're going to go and bat all the way for President Erdogan in the way that he likes.
"That doesn't mean, of course, that there won't be a show of solidarity for Turkey. There will be. But it won't be in a way that encourages escalation."
Russian aircraft have violated Turkish airspace on a number of occasions amid its participation in the war in Syria. "Although this was only the latest in a series of "accidental" violations of Turkish airspace by Russia, the fact that the Russian aircraft came down on the Syrian side of the Turkish border will rob Ankara of a great deal of international sympathy," Dr Rowan Allport, a senior fellow at the Human Security Centre thinktank, told IBTimes UK.
"Domestically, Putin will no doubt seek to use the incident to further cast Russia as the victim of the type of outside aggression which he – and only he – can protect the Russian people from. Internationally, it will be used by Moscow to further divert attention from the fact that its attempts to prop up the Assad government do not present a route to a sustainable peace in Syria."
Allport said that unless Russia did something "uncharacteristically extreme in retaliation", there will be little impact on Nato more broadly from the jet downing because Turkey was not attacked, so unlikely to try to use Article Five. "While they would be unlikely to express it in public, there is likely to be a feeling within many parts of the Turkish government that this situation has been allowed to go too far already," he said.
"Other Nato members will offer public platitudes with regards to Turkey's right to defend its airspace and also conclude that an incident of this nature was inevitable given Russia's conduct, but few in Turkey will believe that internationalising this crisis further will produce any net benefits."
Nato's Article Five
The Parties agree that an armed attack against one or more of them in Europe or North America shall be considered an attack against them all and consequently they agree that, if such an armed attack occurs, each of them, in exercise of the right of individual or collective self-defence recognized by Article 51 of the Charter of the United Nations, will assist the Party or Parties so attacked by taking forthwith, individually and in concert with the other Parties, such action as it deems necessary, including the use of armed force, to restore and maintain the security of the North Atlantic area. Any such armed attack and all measures taken as a result thereof shall immediately be reported to the Security Council. Such measures shall be terminated when the Security Council has taken the measures necessary to restore and maintain international peace and security.