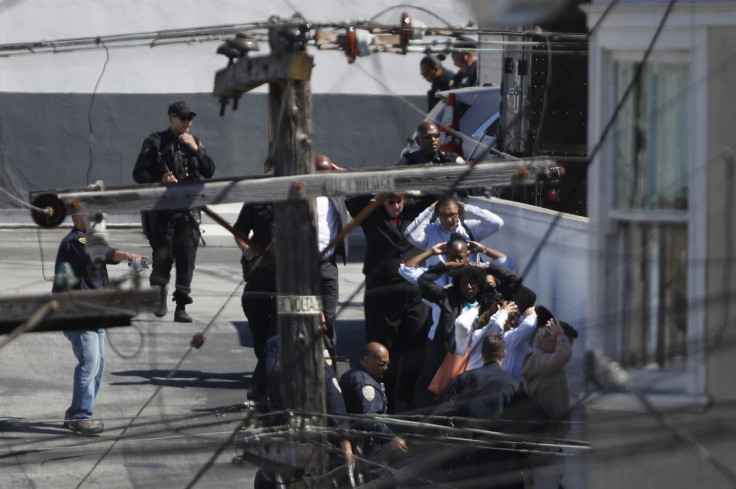 A gunman killed three people at a UPS facility in San Francisco before turning the gun on himself on Wednesday (14 June) morning, Assistant Police Chief Toney Chaplin said. Police said two other people were shot and survived.
Authorities received a report of an active shooter at the UPS San Francisco Customer Centre around 8.55am PT (11.55am ET/4.55pm BST). Sources told NBC Bay Area that the shooter did not say much, just walked in and opened fire.
When officers arrived at the scene, they learned the suspect was still inside the building, Chaplin told reporters. According to CNN, a police "contact team" found the gunman armed with an assault pistol.
"The suspect put the gun to his head and immediately discharged the weapon," Chaplin said. The gunman was reportedly still alive when he was taken to San Francisco General Hospital, where he died.
The assistant police chief said that the suspect was wearing a UPS uniform, though authorities had not confirmed he was an actual employee. UPS spokesman Steve Gaut later confirmed the shooter was a driver and in uniform.
Chaplin said there was no indication that the shooting was terror-related, but he did not provide a motive, CNN reported. San Francisco Police Department (SFPD) contained the incident and secured the building.
"Terrifying. All hell broke loose. I've seen this stuff in the news but never expected to see it in real life..." tweeted eyewitness Mashie Kleven.
NBC Bay Area reported that law enforcement officers have seized three ammunition clips from the scene. Authorities also recovered two guns. Investigators were searching a red vehicle parked near the scene, NBC reported.
SFPD said that a special operations unit was searching the building for victims and witnesses. The facility has 850 workers, Gaut told The Los Angeles Times, though it is unclear how many employees were at the facility at the time of the shooting.
Mayor Ed Lee expressed his condolences for the victims and praised law enforcement and first responders.
"We are always saddened by the loss of life to gun violence. Any shooting is one shooting too many," he tweeted. "I want to offer my condolences to the individuals & families affected by the senseless act of violence at the UPS facility in Potrero Hill."
The public is urged to avoid the area and remain indoors, said Francis Zamora, a spokesman for the city's Department of Emergency Management.