Eurozone's Unravelling Recovery: What's Going Wrong Across Troubled Currency Bloc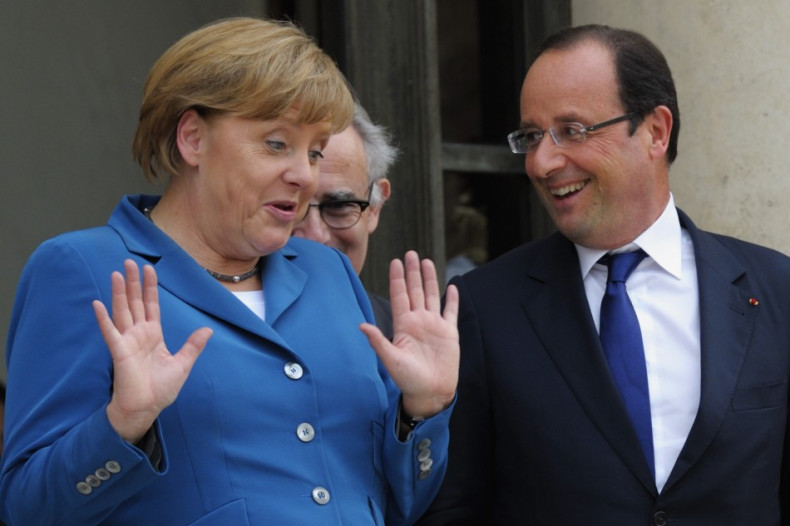 One could have been forgiven for feeling a sense of déjà vu, as the typesetters blew the thin layers of dust from their "Eurozone Crisis" templates this morning.
After what has been months of relative calm, the monetary union was plunged headfirst into choppy waters when Eurostat revealed the region had grown by exactly 0% in the second quarter of 2014.
The headline figures concerned the top three economies: Germany, France and Italy which grew at -0.2%, 0% and -0.2%, respectively.
Analysts had been flagging concerns for some time, and sagging confidence in Germany along with Portuguese deflation providing early week signals that all was not well.
IBTimes UK pooled views from European economists in an effort to answer that most eternal of quandaries: what's wrong with the eurozone?
Political Winds from the East
Much has been made of the potential impact the EU's sanctions on Russia will have on bilateral trade. The true impact of this won't be known for a while, but their presence on the horizon has had a serious drag on investment from eurozone states, particularly Germany, where the ZEW indicator of confidence fell to a 20-month low in August, to 8.6 points, down from 27.1 in July.
"The downturn in German business and financial market sentiment during the quarter has been widely attributed to the [Ukrainian] crisis and may well have led firms and perhaps consumers to hold back spending," said Jennifer McKeown, senior European economist at Capital Economics.
France Must Reform
In recent months, whispers that France is the new sick man of Europe have been gaining traction. Unemployment reached a record high of 11% in July, with pressure mounting on the flailing socialists in government, led by the beleaguered Francois Hollande.
"The French economy looks even less healthy [than Germany] – after two flat quarters in a row Finance Minister Michel Sapin now forecasts growth of around 0.5% this year, and no more than 1% next year," said Ben Brettell, senior economist at Hargreaves Lansdown.
"Because the government had based its fiscal targets on 2015 growth of 1.7% these now look certain to be missed. Falling manufacturing output has been blamed, but there also look to be structural issues around the labour market and productivity."
That France's problems persist in the face of rising consumption tells a story about the underlying problems its economy faces.
Danae Kyriakopoulou of the CEBR adds: "Whilst too much noise has been made about the PIIGS (Portugal, Italy, Ireland, Greece, and Spain) and their slow progress in enacting reforms, there is also a French elephant in the eurozone room that no one dares to speak about. Huge challenges lie ahead for France in terms of consolidating its public finances, improving damaged competitiveness, and reducing high structural unemployment."
Blame it on the Weatherman
Destasis, Germany's statistics bureau, suggested that a mild winter may have had some impact on the country's second quarter performance.
It's a sentiment reflected by Brettell, who said: "An unusually mild winter meant construction projects which would normally have taken place in Q2 took place in Q1 instead. Exports were also weak, rising more slowly than imports and causing a negative contribution from foreign trade to Q2 GDP growth."
Not much can be done about the weather, nor can companies address issues thrown up by the calendar. "The timing of the May Day bank holiday had a negative effect on Q2 GDP as it caused many workers to take an extra day off to make a long weekend," said McKeown.
What about the Positives?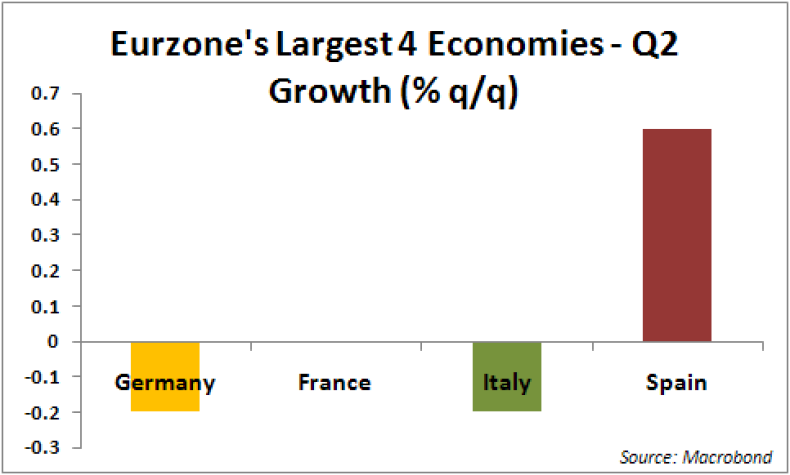 The performances of the big three were understandably leapt on, but today's statistics weren't without glimmers of light. Spain and Portugal both grew by 0.6%, with the latter coming on the back of a 0.6% contraction in the first quarter.
"This highlights that factors outside monetary policy are also important in determining growth," said Christian Schulz, senior economist at Berenberg Bank.
The implication is that Germany's model of low interest rates and moderately high inflation is not the only route to success and, as such, it's more likely that the European Central Bank (ECB) will embark on a period of quantitative easing (QE).
Brettell said: "Ideally [ECB President Mario] Draghi would have liked breathing space to see if the measures introduced in June have the desired effect, but today's dreadful data could force his hand. Germany has always been a notable opponent to QE – Bundesbank chief Jens Weidmann said this week that the responsibility for stimulating growth lies with individual member states rather than the ECB – but perhaps today's shock GDP contraction will lead to a softening in this stance."
And the Future Outlook is...
This is where economists differ. For some, such as Chris Williamson of Markit, the glass is most certainly half empty.
"A stalling of economic growth in the second quarter raises concerns that the euro area is sliding back into a triple dip recession. Many, including the ECB, point to survey data suggesting such fears are overplayed, and that growth will revive as previously announced stimulus take effect. But the weakness of economic growth will certainly fuel louder calls for the ECB to do more to reinvigorate growth across the single currency area," he said.
For others, the problems are surmountable, particularly those concerning Germany.
"Thankfully there are good reasons to think that Q2's contraction will not mark the start of a renewed recession," said McKeown. She has revised her growth forecast for German GDP down to 1.5% for this year, 2% next year and 2.5% in 2016, but warned that "even this will not be enough to ensure a marked recovery in the eurozone as a whole."
The pressure, then, is mounting on Draghi to stimulate an economy which is showing signs of slipping into the doldrums for a sustained period.
"Draghi is involved in a game of brinkmanship. It is not fiscal austerity but evidence of structural reform that he is looking for before he considers sanctioning European style QE, especially from Italy and France. However, structural reforms do not happen overnight, and as the case for QE strengthens, any delay will have a disproportionate impact on the pace of recovery in the rest of Europe," said Nancy Curtin, chief investment officer at Close Brothers.