WhatsApp Gold: DON'T be fooled by this secret premium version being offered to 'elite' users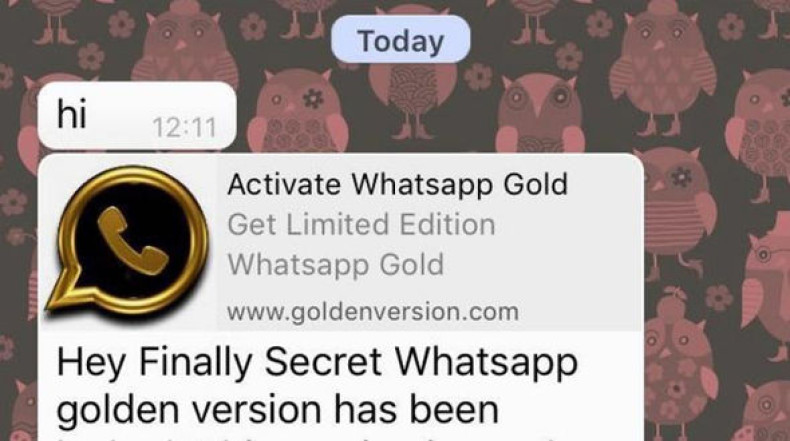 If you've received a WhatsApp message inviting you to an exclusive upgrade to its premium "WhatsApp Gold" version, don't be fooled as it doesn't exist – instead you'll fall into fraudsters' hands and could install data-stealing malware on your device.
The fake message has been hitting the WhatApp inboxes of a number of users claiming a "secret" version of the app is available that's used by celebrities and claims to offer a bevy of enhanced features not available to the rest of us muggles. Except you, you're different. The only thing is, you're not.
"Hey. Finally Secret Whatsapp golden version has been leaked. This version is used only by big celebrities. Now we can use it too," the message reads. It's worryingly easy to click on especially for those unaware of malware risks and wanting bragging rights of being a WhatsApp elite user.
Targets are being lured by features of the WhatsApp Gold version that include video calling, the ability to delete messages after you've sent them and send 100 pictures in one go. To be fair, these are all features WhatsApp users actually want so the fraudsters have been rather savvy but, sadly, anyone who falls for it and taps the download link could be in for a world of trouble.
Exactly what type of malware lies behind the link is unknown but websites laden with malware could range from keyloggers that can record everything you type into your device to viruses and ransomware that could hold your smartphone to ransom. This could result in fraudsters gaining access to your sensitive data such as logins and passwords. With a billion monthly users of WhatsApp, that could be a bounty of victims for the hackers.
If you see the WhatsApp Gold message pop into your inbox, delete it immediately.
With the rise of malware attacks, smartphone owners need to be on their toes. Apple iPhone users were targeted recently with a scam phishing text that claimed the victim's Apple ID login and password had expired, which led those fooled to click on a link to a fake website and divulge their details directly to hackers.
Stay vigilant, folks. Any email or text that looks odd should always be treated with caution.