WhatsApp has finally upgraded its content backup feature and now lets you create a content backup directly in your Google Drive account. The feature will be rolling out to Android smartphones and tablets over the next few months.
Google Drive backup allows you to create a private content backup of chat history, voice messages, photos and videos in your Drive account. You can back up your content by going to WhatsApp Settings > Chats and calls > Chat backup. Also, the app has an option to let you select a backup frequency, such as daily, weekly or monthly, as well. It also allows you to include all the videos you've received.
You can, of course, abandon the automatic backup functionality of the new feature by selecting "Never@ from the backup frequency settings.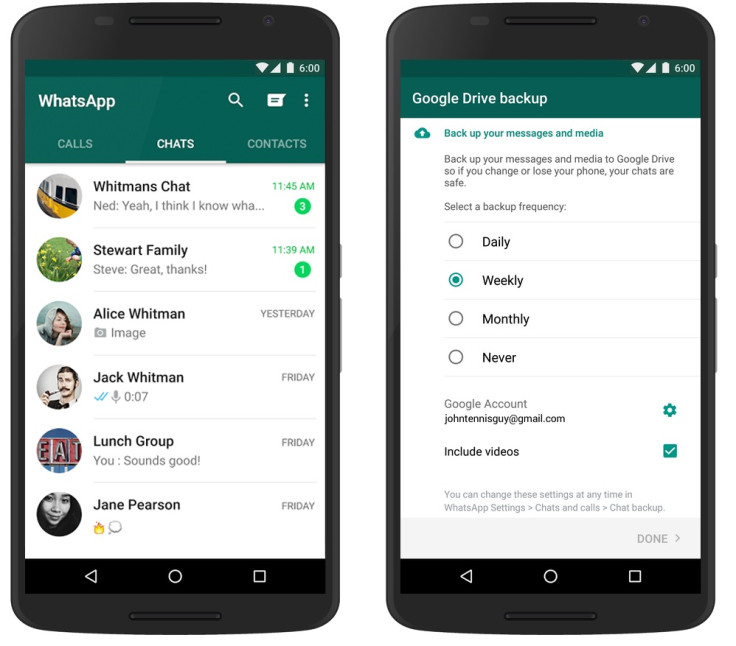 Similar to creating backup, WhatsApp now provides an option to bring your existing content back to your device right from your Google Drive. To use all these features, you need to connect your active Google account with WhatsApp.
Facebook-owned WhatsApp is initially testing Google Drive backup feature on Android devices and a rollout is in development. But iOS users will have to wait longer to experience the new feature.
The arrival of Google Drive backup could potentially be used by about a billion Android users who've installed WhatsApp on their devices so far. The instant messaging app recently surpassed 900 million monthly active users worldwide and is one of the most popular mobile apps on Android and iOS platforms.