Abdulhadi al-Khawaja, Bahraini Hunger Strike Activist, Disappears from Hospital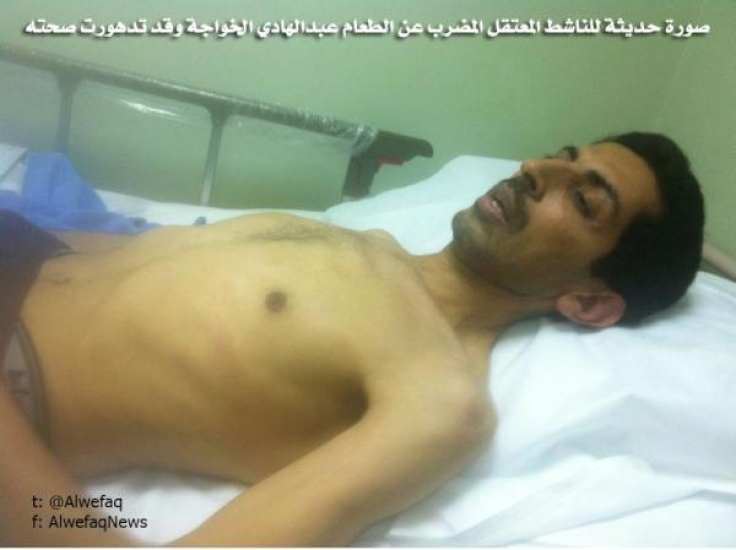 Prominent imprisoned Bahraini activist Dr Abdulhadi al-Khawaja, who has been on hunger strike since 29 January in protest at receiving a life sentence, is reportedly missing from his bed at the Bahraini Defence Force (BDF) hospital.
Fellow activists and friends flocked to Twitter with the hashtag #WhereIsKhawaja to express their concern.
"Since Monday 13.15 I have no news about my husband Abdulhadi," his wife, Khadija Almousawi, tweeted. She called the military hospital on 25 April, only to be told by a nurse that "there is no one in the room".
The interior ministry refused to permit his lawyer to visit him.
The Bahrain Youth Society for Human Rights received confirmation from Khawaja's family that the activist has disappeared.
"Last telephone conversation with him was Monday (23 April) and he was not able to talk because of tiredness and fatigue," they said.
Khawaja is one of 14 opposition activists who were arrested and jailed by Bahraini authorities last year over involvement in pro-democracy protests.
He was seized in a late-night raid in his daughter's house and, according to his family, beaten by police and not allowed to take his medication with him.
The National Safety Court, a military tribunal, accused Khawaja and 20 other activists of "setting up terror groups to topple the royal regime and change the constitution". He was sentenced to life imprisonment based on a confession that was extracted from him under duress.
Khawaja claimed he and members of his family were sexually abused by military forces while they were in a BDF hospital. He spent seven days there blindfolded and handcuffed.
Along with the 13 others arrested alongside him, he went on hunger strike in prison to protest against his conviction.
Even though his health soon began to deteriorate, he continued with his hunger strike to put further pressure on the Bahraini government.
Denmark asked for him to be released on the grounds that he has Danish citizenship, but the Supreme Judicial Council rejected the request.
Khawaja told his family on 17 April that he had removed the intravenous drip keeping him alive. Two days later, during the Bahrain Grand Prix, he decided to stop drinking water and asked to see his lawyer to write his will. He was refused permission to do so.
His daughter, Zainab, wrote on Twitter on 20 April that in the absence of permission to see his lawyer, there are three things he would like everyone to know:
He is completely committed to what he is doing. He has chosen this path and would do so again if given the opportunity.
He asks that nobody attempts to go on a similar hunger strike, starving themselves to death.
If he dies, he asks people to continue on a path of peaceful resistance.
© Copyright IBTimes 2023. All rights reserved.