The number of falsehoods peddled by Donald Trump in the first 33 days of his presidency averaged at four per day. At least, that's what an analysis by the Washington Post concludes.
Some of those falsehoods are particularly memorable. Like the false claim by Trump that he drew a larger inauguration crowd than Barack Obama's first ceremony in 2009, with supporters stretching back to the Washington Monument.
It was demonstrably untrue, though the White House spokesman Sean Spicer used a press conference to justify Trump's claim, and to lambast the media for challenging it. Another top White House adviser, Kellyanne Conway, spun the falsehoods as "alternative facts".
Then there was his bald assertion of massive voter fraud against him in the US election – which, of course, he still won – despite there being no evidence of the kind of widespread corruption he insists took place.
Earl Blumenauer, a Democrat congressman for Oregon, who sits in the House of Representatives, called Trump the "Liar in Chief" on Twitter, and said "ego, not facts or honesty, will be [the] guiding principle for him and his administration...Clearly, [Trump] has problem with the truth. In fact, he lies."
But are these all just mistakes by a lazy egotist? Or are they calculated lies intended to deceive for political ends by a shrewd demagogue? In short: is Donald Trump stupid or a liar? His fiercest critics, who say he has deliberately dumbed down politics, would accuse him of both. He's neither, say those close to him; he's the freewheeling, rough-around-the-edges anti-politician many voters have been looking for.
The president's own attitude may be summed up in a notorious quote from his ghostwritten book, The Art of the Deal. He didn't write these words. But he did approve them to be used under his name: "I play to people's fantasies...People want to believe that something is the biggest and the greatest and the most spectacular. I call it truthful hyperbole. It's an innocent form of exaggeration — and it's a very effective form of promotion."
In a recent interview on BBC Newsnight, one of Trump's most senior national security advisers, Seb Gorka, suggested the president more or less wings his press conferences. Newsnight presenter Evan Davis asked Gorka if Trump had made notes for a lengthy press conference in which Trump lambasted the media, or "did he just go in and busk it?"
"He's fabulous on his feet so he doesn't need to," Gorka said. "If you watch his campaign rallies – this is the man who any one day would go to nine different sites, sometimes in four different states – he doesn't need an autocue. He revels in this. And what we saw today was the old Donald Trump from the campaign trail and it was fabulous."
Davis asked if Trump gamed some of the questions that might have come up with his team "or did he just [say] I'm going to go out there, confront these guys, and give 'em hell?"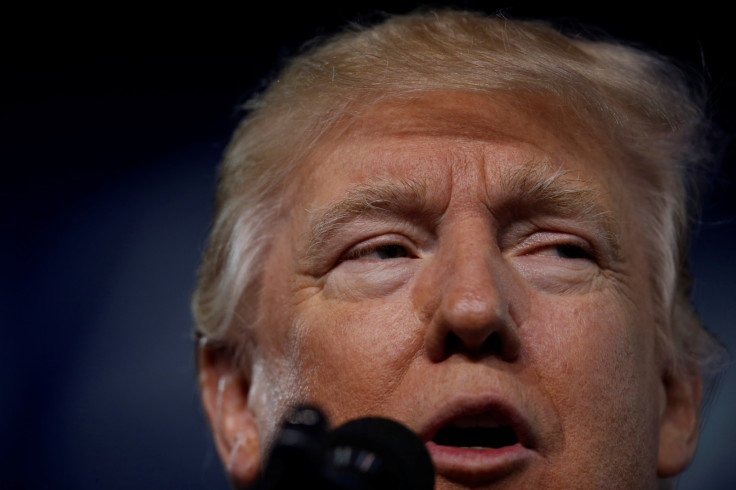 "The president doesn't need to," Gorka replied, and was then asked why Trump made the specific error of claiming he had the biggest electoral college win since Reagan – all other presidents since have had larger college margins than Trump – a point of fact on which he was challenged by a reporter in the room and forced to backtrack.
"I think you're getting a little bit obsessive yourself," Gorka replied to Davis. "If you actually listen to the tape you just played, he said 'I guess I had the largest'. It wasn't an unequivocal statement of fact."
But is there something more sinister at play here? Throughout his interview, Gorka accused the BBC of pushing "fake news", and sought to undermine the interviewer's credibility by casually asserting that he was pushing a hidden agenda through his questions.
Trump often blasts media he doesn't like, such as CNN and the New York Times, as "fake news" for reporting on him critically. He says he is at "war" with the media, and called them an "enemy of the people" in another inflammatory attack, and his strategy chief, Steve Bannon, calls the mainstream media "the opposition party".
At a time when trust in established institutions has collapsed, and faith in traditional media has dissipated in particular, facts and objective truth become relative, hence Kellyanne Conway's "alternative facts" line.
For all its faults, the mainstream media is held legally accountable for what it writes, and its journalists work to ethical codes and standards, and try as best they can in good faith to stick to the facts. Reports may come with a partisan flavour, but the facts generally are just those – facts.
However, it boils down to who the audience trusts more to tell the truth. And for many people, after episodes such as WMDs in Iraq, the media loses that battle against President Trump and his administration. So Trump is free to blur the lines of fact and fiction, undermining the media's ability to hold him to account.
That is a dangerous road to go down. And, as populism rises across the western world, we appear to be halfway down it.