Hours after US President Barack Obama met Israeli Prime Minister Benjamin Netanyahu, the White House has said that if Israel progresses with a controversial housing development in east Jerusalem, it could lose, "even its closest allies."
White House spokesman Josh Earnest emphasized that the 2,500-unit project would not only bring to question Israel's peaceful vows to Palestinians but also draw major "condemnation" from the international community.
The controversial project would bring to completion, "a band group of Jewish areas that separate Jerusalem from nearby Bethlehem," reported AP News.
Israel Gaza conflict
President Obama urged Netanyahu on Wednesday (1 October) to discuss possible strategies to rebuild Gaza after a conflict that took a toll on 2,000 Palestinian and 73 Israeli lives.
It was the first meeting between the two leaders since they shared a wave of rhetoric recently over the Israel Gaza conflict.
"We have to find ways to change the status quo so that both Israeli citizens are safe in their own homes, and schoolchildren in their schools, from the possibility of rocket fire but also that we don't have the tragedy of Palestinian children being killed as well," said Obama.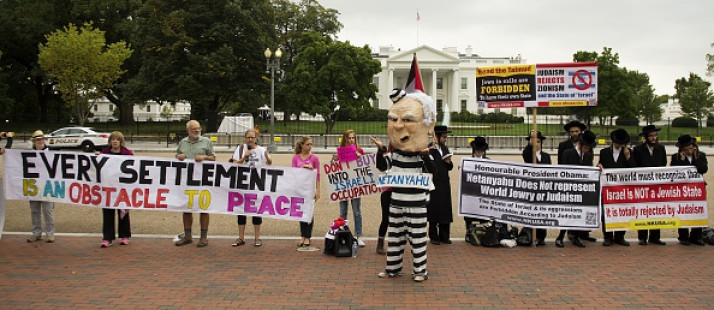 The Iranian Factor
Wednesday's talks between President Obama and Netanyahu also brought to surface the Iranian factor with the skeptical Israeli PM warning Obama not to facilitate Iran's attempts to become a "threshold nuclear power."
A threshold nuclear power means a country is equipped with the know-how, equipment and radioactive material needed to produce a nuclear device.
"Iran seeks a deal that would lift the tough sanctions that you worked so hard to put in place and leave it as a threshold nuclear power. I fervently hope that under your leadership that would not happen," said Netanyahu.
Netanyahu remained skeptical of President Obama's promise to broker a bid that will constrain Iran's nuclear program as it reaches a deadline next month.
While Netanyahu ideally wants to entirely dismantle Tehran's "military nuclear program", Obama has repeatedly emphasized that such a "perfect" agreement is impossible.
Whether it gains international backing or not, Netanyahu is willing to take military action against Iran's nuclear program unless a deal is reached where the nuclear program is completely dismantled with zero enrichment capacity.
The Israeli PM spent a total of 90 minutes at the White House and left without dwelling into press and media inquires.