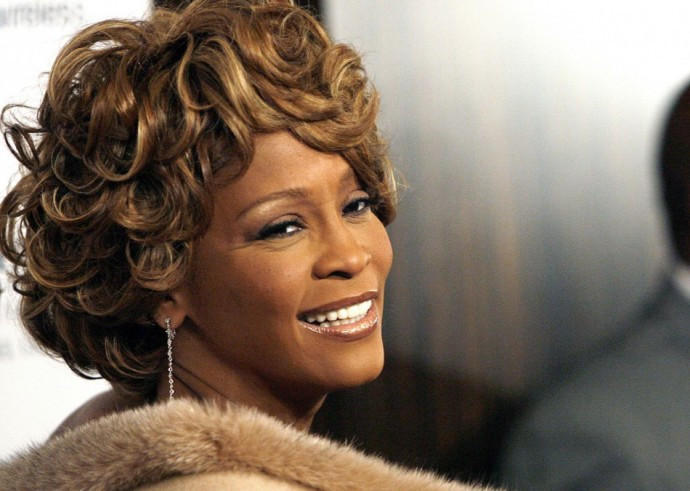 As Bobbi Kristina's beleaguered family struggle to deal with the lack of improvement in her coma condition, they have been rocked by yet another crisis.
A sensational new report has claimed that her late mother Whitney Houston was blackmailed by a Chicago lawyer who threatened to expose her alleged secret lesbian relationship with her personal assistant and long-time friend, Robyn Crawford.
Citing an FBI report, the New York Post article claims the unidentified attorney tried to extort $250,000 from the I Will Always Love You hitmaker in 1992 and allegedly claimed that they were prepared to go public with information about her lesbian romance if she didn't pay up. The 128-page FBI report is said to feature several harassing letters between Houston's handlers and someone who threatened her.
Details of the alleged incident were revealed in a new book Whitney & Bobbi Kristina: The Deadly Price of Fame, written by Ian Halperin.
The NY Post reports that the late Grammy award-winning singer's father, John Houston, "settled the matter by sending a confidentiality agreement almost immediately," but it was unclear how much their silence cost. Crawford, who is openly gay, reportedly resigned from Houston's production company in 2000.
Houston herself refuted the lesbian rumours in a 1987 interview with TIME magazine, describing Crawford as the "sister I never had."
"People see Robyn with me, and they draw their own conclusions. Anyway, whose business is it if you're gay or like dogs? What others do shouldn't matter. Let people talk. It doesn't bother me because I know I'm not gay. I don't care," she explained.
However two decades later Houston's former husband Bobby Brown, appeared to confirm the lesbian rumours in his 2008 memoir Bobby Brown: The Truth, The Whole Truth and Nothing But.
"I believe her agenda was to clean up her image," an extract from the book reads. "The media was accusing her of having a bisexual relationship with her assistant, Robin [sic] Crawford . . . that didn't go too well with her image. In Whitney's situation, the only solution was to get married . . . [to] kill all speculation."
Other explosive claims from the book suggest Bobbi Kristina had a troubled childhood and was a drug addict by the time she was 14-years-old and allegedly accompanied her mother to a rehab facility in Antigua in 2005.
In 2012, Houston was found dead in a bath in a Beverley Hills hotel. A coroner later concluded her death was as a result of accidental drowning, though heart disease and cocaine use were contributing factors in her death.
Her 22-year-old daughter Bobbi Kristina was found face down and unresponsive in the bath tub of her Georgia home in tragically similar circumstances.