Shocking claims have been made in a new book suggesting that Bobbi Kristina Brown was a drug addict by the time she was 14 years old.
The explosive new book, Whitney & Bobbi Kristina: The Deadly Price of Fame, written by Ian Halperin, claims to reveal new details about the lives of the late Whitney Houston and her daughter.
Publishers Gallery Books claim that Halperin "exposes the complicated Houston family dynamics, including the torment that happened behind closed doors."
"Drawing on evidence from trusted Houston family members, friends, and other inside sources, Halperin shares new insights into Whitney's rise to fame, stormy marriage, and devastating spiral into self-destruction; and provides revelatory details about Bobbi Kristina's relationship with Nick Gordon, including new evidence about the days leading up to Bobbi Kristina being found unresponsive in the bathtub of her home," Gallery Books states.
In the book Halperin claims that Whitney Houston was so consumed by her own addictions and her confusion regarding her sexuality that was unable to be a functioning parent who could effectively meet her daughter's emotional needs.
He further alleges that Bobbi Kristina was exposed to drug use from an early age and accompanied her mother to a rehab facility in Antigua in 2005.
It was soon after, that the teenager is reported to have been sent to rehab herself to deal with her own problems relating to her alleged drug use.
The author claims a relative of Bobbi Kristina revealed that aged 15, she had been committed to a psychiatric hospital for observation after trying to stab her mother before slashing at her own wrists.
Her problems escalated after her parents Whitney and Bobby Brown split up in April 2007 after 15 years of marriage.
As Houston attempted to re-launch her singing career, Bobbi Kristina got in with the wrong crowd.
"A 17-year-old Bobbi Kristina was left to her own devices in Atlanta, where she had taken up with a hard-partying crowd, including the boy who had moved into her house three years earlier, Nick Gordon," writes Halperin.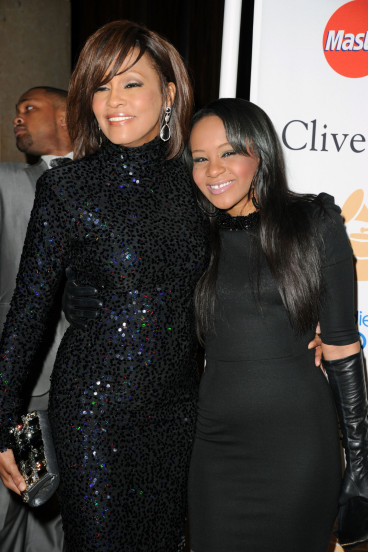 Photos emerged of the troubled teen allegedly snorting coke at two separate parties. Her mother responded to the reports by cancelling her daughter's 18th birthday extravaganza and sending her to rehab.
It was following the death of Whitney Houston on February 11, 2012, that Bobbi Kristina went public about her relationship with Gordon, suggesting they were married. Halperin states that she became dependant on Gordon who had been welcomed into the family by Houston as a son.
Halperin said a friend of Bobbi Kristina's told him: "The crowd she hung out with was out of control. The past couple of years she hung with a bunch of crazies, they were wild and reckless."
The book has been published just six months after Bobbi Kristina was found face down and unresponsive in the bath tub of her Georgia home days before the third anniversary of her mother's death in tragically similar circumstances. She was placed in a medically induced coma. Doctors have said she has suffered irreversible brain damage and is unlikely to ever regain consciousness.
Halperin has also offered his insights into the circumstance in which she was found explaining that she could have been subjected to what drug users call 'the plunge.'
The practice involves plunging a victim of an overdose into cold water while slapping them in an attempt to try and revive them.
A local drug addict told him: "She probably took the plunge." Halperin explains: "He told me that when somebody "drops" - a term meaning to OD - there are all kinds of ways to revive them."
'I've never seen it done in a bath," he said to me, "but I sort of helped bring somebody around with a cold shower. You stick them under the cold water and you slap them to bring them around."
Halperin says this could explain the "facial bruises that paramedics reportedly found."
"Only the toxicology report — or in the worst-case scenario, an autopsy — can definitively answer the question about which, if any, drugs Bobbi Kristina had in her body at the time she was found," Halperin writes.
"It's possible that authorities will unveil new evidence that discredits the cold-water bath theory completely. It's also possible that we may never know what happened."
Whitney & Bobbi Kristina: The Deadly Price of Fame will be published June 9 by Gallery Books.