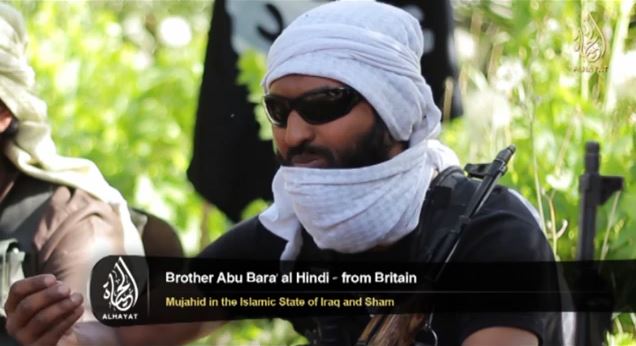 Britons have reacted with horror today to the news that the Isis (Islamic State) fighter who beheaded US journalist James Foley is understood to be English.
In the graphic video, posted to YouTube by the militant group, the jihadist speaks with a clear southern English accent, leading some experts to believe he is from London.
Though the man is yet to be identified, he is just one of around 400 British nationals believed to have travelled from the UK to Iraq and Syria to fight among the ranks of the Islamic State this summer.
The James Foley video has lead Foreign Secretary Philip Hammond to reassure Brits that UK intelligence agencies are "tracking and monitoring Britons who could be involved with extremist groups".
He said: "We are absolutely aware that there are significant numbers of British nationals involved in terrible crimes, probably in the commission of atrocities, making jihad with IS and other extremist organisations."
Brits are 'most brutal' fighters
On Wednesday morning, Shiraz Maher, a jihadism expert from King's College London's International Centre for the Study of Radicalisation, told BBC Radio 4's Today programme that British extremists are among the "most vicious and vociferous fighters" in IS ranks.
Maher went on to say how the Brits are acting as suicide bombers and executioners in the conflict and that "British participation...has been one of full participation, one that has seen them at the front lines, taking part in the conflict in every way."
The British media has been adept at discovering some of the identities of Britain's 'home grown' IS fighters – mostly thanks to individual members' social media accounts and the clever use of Facebook and Twitter by the group to publicise jihadist propaganda, recruit members and disseminate information about their brutal campaign.
Religious devotees or bored young men?
But why are so many young men (and in a couple of cases, women) so eager to sign up to fight for the 'caliphate' apparently established across swathes of Iraq and Syria?
Some experts, including Maher, believe that British Sunni Muslims initially went to Syria because of an "existential threat" to their faith from Shia Muslims. The huge numbers of Sunni Muslims within the Isis ranks have helped expand Isis in size as well as territory and influence.
Some British members of the jihadi group have been keen to explain their motivations in their own words. In a 13-minute video released by Isis, entitled "There is No Life Without Jihad", three Britons describe their motivation for travelling to Iraq and Syria in a bid to persuade others to swap a comfortable Western life for a religious war.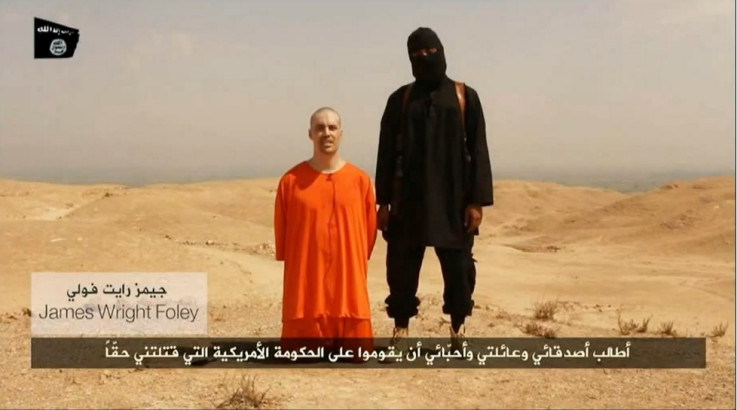 The IS fighter who executed James Foley is understood to be English.
YouTube
In the video, Abu Bara al-Hindi tells viewers: "The cure for depression is jihad...Feel the honour we are feeling, feel the happiness we are feeling."
Another Brit, still in the UK, told the BBC that he feels "obliged" to now go to Iraq or Syria because "God has commanded for the Muslims to go and fight jihad". He said to die as a martyr is "the promise of paradise".
Earlier this year, Vice News spoke with Amer Deghayes, 20, who travelled from Brighton to Syria in July 2013 and saw his younger brother Abdullah die while fighting. He claimed his brother "laughed and he smiled" as he was fatally wounded, and said he "was killed for a really good cause and his death was a sign of martyrdom."
Whether the cause is deeply held religious beliefs or an easy exit from a Generation Y existential crisis, the pull of Syria and Iraq for 'western' Muslims is proving to be embarrassing for the British government, and has resulted in Muslim communities in Britain publicly urging the religion's young men to stop signing up for foreign conflict.
In early July, more than 100 Imams from all over the UK – mindful of the image of Islam in the minds of non-Muslims – issued a collective statement urging British Muslims "not to fall prey to any form of sectarian divisions or social discord".
The open letter, signed by Imams from across major theological backgrounds and cultural groups (from various denominations of Sunni and Shia Muslims), asks British Muslim communities to "continue the generous and tireless effort to support all of those affected by the crisis in Syria and unfolding events in Iraq, but to do so from the UK in a safe and responsible way."
Who are the British jihadists we know about?
Nasser Muthana, 20, from Cardiff, is believed to have joined IS in Syria. He posted pictures of home-made bombs on an unverified Twitter account with the caption: "So the UK is afraid I come back with the skills I've gained".
Aseel Muthana, 17, also from Cardiff, is Nasser's brother. Aseel is believed to be in Syria after he told BBC Wales "Jihad is obligatory".
Reyaad Khan, 20, from Cardiff, appeared with Nasser and another Jihadist from Aberdeen (see below) in a recruitment video on 20 June, apparently filmed in Syria, urging others to join the IS cause.
Abdul Raqib Amin, believed to be 26, was brought up by his parents in Aberdeen. He appeared in the terrorist recruitment video just weeks before he was reportedly killed in a gun battle with an Iraqi Army Swat team.
Abu Dujana al-Muhjahir, 19, from Portsmouth, is an IS recruit who announced the death of Amin on social media in July.
Former Primark worker Muhammad Hammidur Rahman, also from Portsmouth, died fighting in Syria in August. On Twitter he said he joined Isis after being "called by God to help Muslims being killed by President Bashar al-Assad."
Twins Salma and Zahra Halane, 16, were reported to have travelled from their home in Manchester to Syria via Turkey in June, despite pleas from their family to return home. The girls are said to be "deeply religious" and social media accounts have since shown them learning to use guns and seeing grenades and Kalashnikov rifles.
Abu Muhadjar, is among 20 young British men reported to be fighting in Syria last October. He told a foreign correspondent for the BBC: "I grew up in a fairly nice area. I come from a decent close-knit family. My family do know where I am and what I'm doing".
Jafer Deghayes, 16, Amer Deghayes, 20, and Abdullah Deghayes, 18 are brothers from Brighton who travelled to fight alongside IS in Syria. Abdullah is believed to have died in April this year. Their father Abubakr says the boys initially travelled to the region for humanitarian reasons to deliver aid but decided to fight against the regime of Bashar Al-Assad.
Abu Sumayyah Al-Britani left the UK a year ago to fight what he calls a "holy war" in Iraq and Syria. Speaking from an Internet café in Idlib, northwest Syria, the British father-of-three told reporters his terror training camp is "really really fun".
Five young unnamed British Asian men are believed to have boarded a flight from Manchester to Antalya this month on the pretence of attending a holiday spa, before slipping across the Turkish border to Syria to join up with IS forces.