Undefeated junior welterweight champion Chris Algieri (20-0-0, 8 KO) will fight Manny Pacquiao (56-5-2, 38 KO) for the WBO welterweight championship today in Macau, China, the scene where 'Pacman' rediscovered his winning form against Brandon Rios via an unanimous decision last November.
But Algieri is not only challenging the Philippine superstar. He is also challenging the sport's clichés, having taken the road less traveled on his quest become a world champion.
Born on 2 March 1984, Mark Christopher Algieri didn't have to focus his energy on boxing to escape from a troubled childhood. He grew up in a happy, middle-class home on Long Island and fell in love with the sweet science watching fights on the lap of his grandfather Carlos, who told him not to become a boxer, but a doctor.
Algieri, who lives in his parents' basement and drives a 2001 Honda Civic, holds a bachelor's degree in health science from Stony Brook University and a Masters degree in clinical nutrition from the New York Institute of Technology.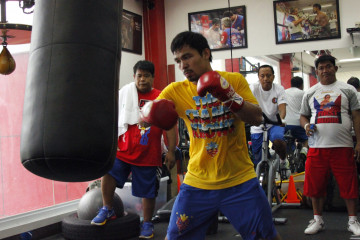 A New Yorker of Argentine and Italian heritage, Algeri started out as a kickboxer, becoming a world champion with a 20-0 record. Looking for new challenges, he began boxing when he was 23 and earned his showdown with Pacquiao after defeating the dangerous Ruslan Provodnikov by a split decision in June.
Algieri was down on the canvas twice in the opening round and had to fight for the remaining 11 with his right eye swollen shut. Although it was a controversial win, Algieri fought smarter than Provodnikov and out-punched his rival in every single round.
How did he spend the $100,000 prize money earned against Provodnikov? By paying off his student loans, installing a new roof over his parents' house, and paying for a scholarship fund at Stony Brook University.
Algieri's rise during 2014 makes Pacquiao wary of being stopped by the university graduate. "Algieri is also the most scientific, fluid and fittest fighter I have ever opposed," Pacquiao said this week.
"All of those factors, plus he is five years younger than me, make him the most dangerous opponent of my career."
Smart, tall, lean, handsome and polite, Algieri's story – a former kickboxer who became a boxing champion by defeating a formidable Russian opponent who knocked him down twice – seems to be taken from a 1980s martial arts film.
But none of this will help him topple Pacquiao, but in boxing there is no script and betting odds don't tell the whole story.
As a boxer, Algieri doesn't have Pacquiao's speed, skills or experience, but he has hunger, a solid defence, a longer reach, smart moves, an excellent jab and little to lose. If Algieri is capable of beating odds with the same ease he shatters clichés, 'Pacman' and his entourage should be worried.