Amir Khan remains hopeful on facing either Floyd Mayweather Jr or Manny Pacquiao in the future despite being focused on his December meeting with Devon Alexander in Las Vegas.
Khan defeated Luis Collazo in convincing fashion during his last fight back in May 2014. He will take on Alexander in a non-title match on 13 December, but the British fighter is keeping half a mind on potential challenges in 2015.
The 28-year-old has harboured ambitions of facing both Mayweather and Pacquiao during the last few years and though the bout with Alexander is less than a month away, Khan can't resist in looking into the future.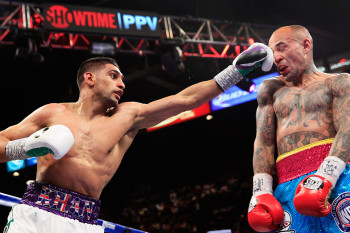 "This [Alexander fight] is a ticket to bigger fights in the future," he told iFL TV. "There has been a great response to the fight so it shows that Amir Khan is a big ticket-seller in Vegas and around the world.
"I am in a great position where if I win [against Alexander], the Floyd Mayweather fight will probably be next.
"I am not really going to be rushing anything. I am focusing on Devon, looking good in this fight, winning this fight - and then the Mayweather fight will be there for us. I am not looking too far ahead.
"When you focus on other opponents and look too far ahead you lose that fight and you're back to square one.
"I don't want to do that. I know that beyond this fight there are going to be some big goals; Floyd Mayweather and Manny Pacquiao."
The Olympic silver medalist's comments come after Golden Boy founder Oscar De La Hoya claimed that a victory over Alexander would indeed lead to money-spinning fights with Mayweather and Pacquiao.
"I expect him to get the Mayweather fight," the Mexican said. "He has been wanting the major names in boxing for quite a while. He deserves it.
"This is a tough fight that neither can look past but obviously the big prize is the Pacquiaos of this world and the Mayweathers of this world. There is a lot on the line, this is high stakes."