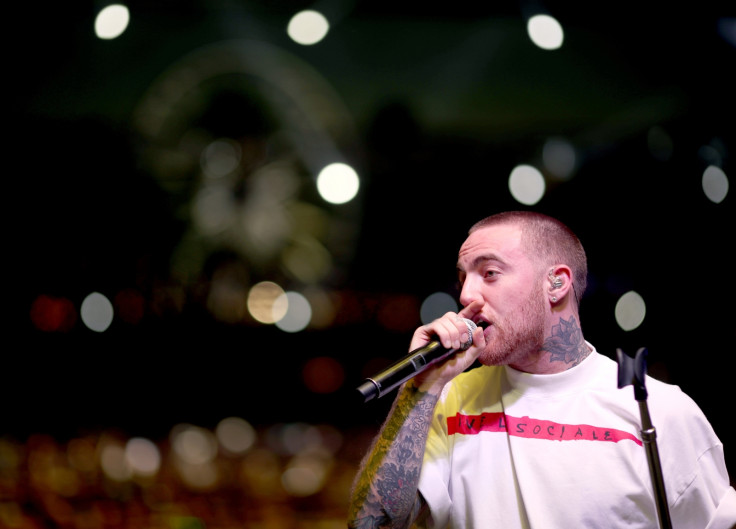 He's a rising American rapper who is covered in tattoos and is currently dating one of the most famous popstars in the world, Ariana Grande.
Mac Miller fact box
Birth name: Malcolm James McCormick
Born: 19January 19, 1992 in Pittsburgh, Pennsylvania, U.S.
Occupation: Rapper and producer
Record label: Warner Bros. Records, REMember
And after taking the stage at Sunday night's (4 June) One Love Manchester benefit concert organised by 23-year-old Grande for those affected by the Manchester terror attack on 22 May, Mac Miller has been introduced to the wider world.
Real name Malcolm James McCormick, the 25-year-old star is also a noted record producer under the pseudonym Larry Fisherman. Born in Pittsburgh, Pennsylvania, he is the son of photographer Karen Meyers and architect Mark McCormick. His father is Christian and his mother is Jewish. He was raised Jewish and had a Bar Mitzvah.
As a result of a his religion, Miller describes himself as "the coolest Jewish rapper", a response to Drake's claim to be "the best Jew in the rap game". He has taken on multiple alter-egos such as Delusional Thomas, Larry Lovestein and The Velvet Revival.
Miller was a typical student, attending Winchester Thurston School and Taylor Allerdice High School where he participated in sports and concentrated on his studies. However, when he discovered rap at the age of 15, this all changed.
He previously said: "Once I hit 15, I got real serious about it and it changed my life completely ... I used to be into sports, play all the sports, go to all the high school parties. But once I found out hip-hop is almost like a job, that's all I did."
Already knowing he wanted to be a singer as a child, Miller didn't start rapping until he was 14 years old. Prior to changing his name to Mac Miller, he called himself EZ Mac and released the mixtape But My Mackin' Ain't Easy in 2007, aged 15.
He has had a vibrant music career since, signing a record deal with Pittsburgh-based indie label Rostrum Records in early 2010 before recording his debut studio album Blue Slide Park, which was released in November 2011.
By 2013, Miller launched his own record label imprint, REMember Music, which he named after a friend who had died. His second album, Watching Movies with the Sound off, was released in June 2013 and a year later he signed a record deal with Warner Bros..
Miller's musical influences include Big L, Lauryn Hill, Outkast and the Beastie Boys, with glimmers of these artists being heard in his 2016 fourth album The Divine Feminine. It features the ground-breaking single Dang!, which he sang with Grande at last night's concert.
Relationship with Ariana Grande
After the traumatised singer flew back to the US with her mother Joan following the tragic incident that left 22 people dead after 22-year-old suicide bomber Salman Abedi attacked Manchester Arena, Miller was the first person to comfort Grande as she stepped off the plane.
In September 2016, Grande confirmed that she was dating Miller in an Instagram post, and the two have been pictured on several occasions since. Both of them share pictures spending time together on their social media accounts.
When Grande won the Artist of the Year award at the AMAs in November 2016, he posted a picture of his girlfriend with the touching caption: "I'm so proud of you. Thank you for bringing so much light into my life. Congratulations on the beautiful bond you have created with people all over the world. Continue to be you, because you puts a smile on the face and hearts of so many. Artist Of The Year."
The couple sparked engagement rumours on Twitter during the One Love Manchester concert after Grande was spotted wearing a diamond ring on her wedding finger.
Miller and Grande first met when they collaborated on Grande's track The Way in 2013. He told Cambio in an interview: "If you ever interview her... she'll tell you an awesome story about, like, her label person telling her that she should work with me and her saying, 'He looks weird.'
"But I am weird... she was correct. But she didn't know that there was a really genuine person [in there]," he added.
Grande put her initial reservations to one side and reached out to Miller to collaborate on the song, in which they created a music video for and shared a kiss that quickly sparked dating rumours among fans.
Their relationship appears to be growing from strength to strength and Grande seems to be completely smitten with Miller, often posting loving snaps of the pair on Instagram.